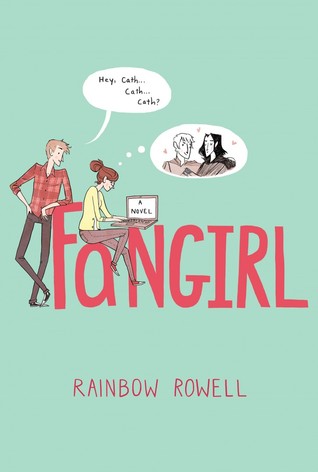 Fangirl by Rainbow Rowell
Rating: ★★★★★
Links:
Amazon
•
TBD
•
Goodreads
Publication Date: September 10, 2013
Source: Purchased
Cath is a Simon Snow fan.
Okay, the whole world is a Simon Snow fan…
But for Cath, being a fan is her life—and she's really good at it. She and her twin sister, Wren, ensconced themselves in the Simon Snow series when they were just kids; it's what got them through their mother leaving. Reading. Rereading. Hanging out in Simon Snow forums, writing Simon Snow fan fiction, dressing up like the characters for every movie premiere.
Cath's sister has mostly grown away from fandom, but Cath can't let go. She doesn't want to.
Now that they're going to college, Wren has told Cath she doesn't want to be roommates. Cath is on her own, completely outside of her comfort zone. She's got a surly roommate with a charming, always-around boyfriend, a fiction-writing professor who thinks fan fiction is the end of the civilized world, a handsome classmate who only wants to talk about words… And she can't stop worrying about her dad, who's loving and fragile and has never really been alone.
For Cath, the question is: Can she do this? Can she make it without Wren holding her hand? Is she ready to start living her own life? Writing her own stories?
And does she even want to move on if it means leaving Simon Snow behind?
The whole thing is sort of spoilery, so proceed with caution!

I don't even know what to say about Fangirl. I finished it last night and my head is still spinning from how great it was.

THINGS I LIKED: 
• I related to Cath so much. I've never seen someone describe social anxiety as well as Rainbow. My favorite quote from the entire book is probably "In new situations, all the trickiest rules are the ones nobody bothers to explain to you. (And the ones you can't Google.)" Where does the line start? How do you pay? Can you just get up and leave if you need to use the bathroom during class? What do you do in the morning if all the showers are taken? Can you shower on a different floor? Do you have to be a law major to use the law library? Rainbow gets it, and she's written an entire amazing book around it.
• Rainbow created an entire fandom – eight books and fanfiction about those books. I wish Simon Snow was a real thing because I would totally read it. It's like a sassy Harry Potter with awesomely ridiculous spells (Olly olly oxen free! Up up and away! Presto chango!).
• Unlike a lot of readers, I really appreciated that Cath didn't have a beautiful resolution with her mother. I thought Cath's reaction was realistic and refreshing. In so many books, the absent parent comes back and everything is immediately better. As someone who's had an absent parent nearly my entire life, I can honestly say that I would react exactly the same way that Cath did.
• Similarly, I appreciated that Cath completely cut off ties with Nick when she found out he was using her. Nick was a charming jerk like so many college boys, and too many books excuse charming jerks of their behavior because they're charming. I loved it when Cath and her friends kicked Nick out of the dorm. I loved that she stood her ground and refused to attach her name to their story.
• And yeah, Levi was a good character. I'm not as in love with him as a lot of Fangirl's fandom, but he was a good guy.

THINGS I DIDN'T LIKE AS MUCH: 
• The only thing I can say that I didn't like was the sudden resolution of all the problems between Cath and Wren. I thought it was completely unrealistic that you could go from not even speaking for almost an entire semester to being best friends again over the course of days. But then again, I don't have a twin sister, so it's possible that I don't understand the dynamics of their relationship. And this isn't to say that I didn't want them to make up. I'm so glad that they did because Wren seems to make Cath more grounded and less anxious and Cath seems to pull Wren back from the edge and keep her from spiraling out of control. I just wish it would have happened slowly rather than all at once.

All in all, this book was awesome. I want to go out and buy the rest of Rainbow's books and devour them this weekend.