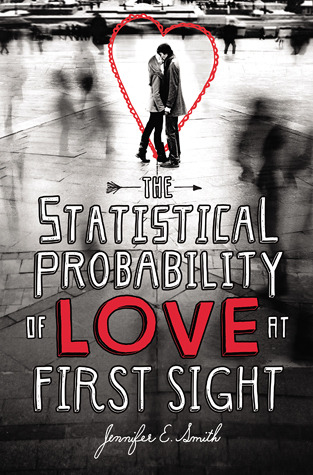 The Statistical Probability of Love at First Sight by Jennifer E. Smith
Rating: ★★★☆☆
Links:
Amazon
•
TBD
•
Goodreads
Publication Date: January 2, 2012
Source: ARC via Netgalley
Who would have guessed that four minutes could change everything?
Today should be one of the worst days of seventeen-year-old Hadley Sullivan's life. Having missed her flight, she's stuck at JFK airport and late to her father's second wedding, which is taking place in London and involves a soon-to-be stepmother Hadley's never even met. Then she meets the perfect boy in the airport's cramped waiting area. His name is Oliver, he's British, and he's sitting in her row.
A long night on the plane passes in the blink of an eye, and Hadley and Oliver lose track of each other in the airport chaos upon arrival. Can fate intervene to bring them together once more?
Quirks of timing play out in this romantic and cinematic novel about family connections, second chances, and first loves. Set over a twenty-four-hour-period, Hadley and Oliver's story will make you believe that true love finds you when you're least expecting it.
Alright, so I had this one on my to-read shelf for quite a while, but I wasn't interested enough to buy it. Along comes Netgalley, offering me a free copy as a promotion for Jennifer E. Smith's next book… and I'm kind of glad I didn't buy it.
Hadley is headed to London for her father's second marriage – to a woman she's never met, no less. She's not looking forward to it and wouldn't even have gone if her mother hadn't insisted that she'd regret it if she didn't. So she packs up, arrives at the airport, goes through security, and misses her plane. By four minutes. Her dreaded "vacation" just got even worse. The airline is nice and cooperative, though, and puts her on the next flight to London, leaving three hours later. The problem? Apparently Hadley has given herself the absolute minimum amount of time possible between landing at Heathrow, getting ready at the hotel, and getting to the wedding. This new flight, three hours later, will barely get her to the church on time, even if she doesn't stop to get ready. So, alright, I get it. She doesn't want to go to the wedding. But she's going, so why make it so stressful and hard on herself? I don't know about you, but maybe one or two flights I've ever been on have left on time. Most have been delayed a least a little, and some have been delayed several hours. One was delayed a whole day, but that's another story. What I'm getting at is that if you have a huge occasion that you need to be present for, why are you leaving so much to chance? Yes, this book is about fate. But this is just unrealistic.
Anyway, while waiting in the crowded airport terminal, she attempts to get a nearby woman to watch her suitcase. This, as we all know, is completely against the airport rules, though typically people don't think too much of it. The woman declines, a cute British guy nearby offers to watch it, and Hadley says no thanks. She'll just take her suitcase with her. Well, much to her dismay, the cute British guy follows her around until she realizes that he's a cute British guy, and then they hit it off. His name is Oliver. He's headed to London too. They'll be sitting in the same row. Hadley and Oliver become fast friends. Some might say that they fall in love, given the name of the book, but I would beg to differ. They're attracted to and intrigued by each other. It's as simple as that.
Overall, it's a cute premise. I'm a sucker for cute British boys and whirlwind romances, so I should have been all over this one. But I really wasn't. It's hard to say what it was that I disliked.
I mean, the third person narration was a little off-putting. In a story like this, where so much is focused on the character's feelings and so little is focused on what's happening around them, third-person narration seems a little silly. With first-person narration, I might have felt a little more connected to Hadley.
I actually didn't feel connected to any of the characters. Hadley frustrated me and came across as a spoiled brat. She couldn't just let her dad be happy, even if she disapproved of the marriage.  Oliver was cute, but I couldn't help but feel like he was trying too hard to force a connection, and I didn't like how he dodged so many of Hadley's questions about his life. I couldn't get over the fact that I was supposed to feel sorry for Hadley's dad because he left his wife and child for a younger woman. Obviously they're going to have some issues with that and asking them to happily accept your new life is going a little far. And Hadley's mom – setting such a horrible example of how to act when you're in a relationship!
The ending felt very rushed after so much time was spent on every detail of every conversation Hadley and Oliver had in the airport, on the plane, etc. When you consider that the entirety of the book takes place over a day, everything feels rushed.
All in all, The Statistical Probability of Love at First Sight was just kind of… there. I didn't love it. I didn't hate it. I was really kind of indifferent to it.
Final rating: 2.5/5, rounded up to 3.
Thank you to Netgalley and the publisher for the free copy.
Final rating: ★★1/2
[also posted here (with a bit more detail and spoilers)]