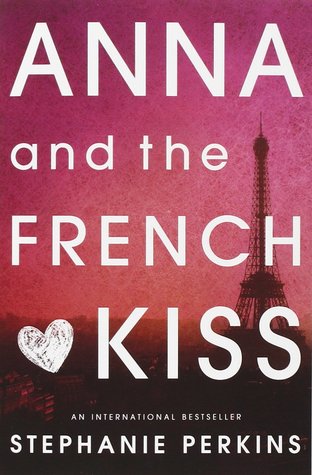 Anna and the French Kiss by Stephanie Perkins
Series: 
Anna and the French Kiss 
#1
Rating: ★★★★☆
Links:
Amazon
•
Goodreads
Publication Date: December 2, 2010
Source: Purchased
Anna is looking forward to her senior year in Atlanta, where she has a great job, a loyal best friend, and a crush on the verge of becoming more. Which is why she is less than thrilled about being shipped off to boarding school in Paris–until she meets Étienne St. Clair. Smart, charming, beautiful, Étienne has it all…including a serious girlfriend.
But in the City of Light, wishes have a way of coming true. Will a year of romantic near-misses end with their long-awaited French kiss?
I finished Anna and the French Kiss a few days ago, and I've held off on my review because I have not been able to form a coherent thought. When I think about this book, the only word that comes to mind is "cute." Seriously. It's cute from the first chapter to the very last page.
Anna is a perfectly ordinary teenager whose father happens to be a rich author of the Nicholas Sparks variety. One day, her father decides that he's shipping her off to an American boarding school in Paris. Oh, the humanity. Anna is devastated. It's her senior year! She's been inching towards dating this cute guy she works with! She doesn't speak French! It's going to be awful! WHY IS HER DAD SO MEAN?! But then Anna gets there, and she makes some great friends pretty quickly. The place isn't so bad. She finds that the students at the School of America have a lot of freedom, and the professors are almost all awesome. But most of all, the reason for her changed attitude goes by the name of Etienne St. Clair – the cutest, most charming, most unavailable boy she's ever met.
Let me be honest for a second. I don't think I've ever read a boarding school novel that I didn't like. I just love the magical atmosphere and the shenanigans and living vicariously through these kids. My high school experience, while not awful, was less than magical. Anna and the French Kiss scored some easy points right off the bat for being set at a boarding school in Paris. It scored some additional points for just being really cute and friendshippy and not delving too far into the ever-present YA love triangle.
I'm looking forward to reading Lola and the Boy Next Door. If it's half as cute as Anna and the French Kiss was, I'll be all over it.