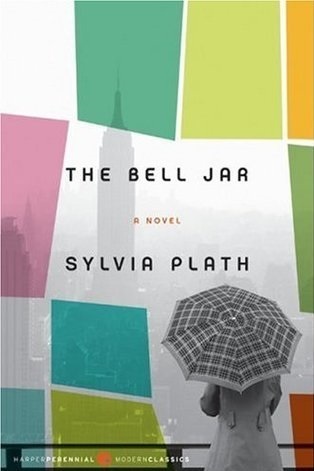 The Bell Jar by Sylvia Plath
Rating: ★★★★☆
Links:
Amazon
•
TBD
•
Goodreads
Publication Date: January 1963
Source: Purchased
Sylvia Plath's shocking, realistic, and intensely emotional novel about a woman falling into the grip of insanity.
Esther Greenwood is brilliant, beautiful, enormously talented, and successful, but slowly going under—maybe for the last time. In her acclaimed and enduring masterwork, Sylvia Plath brilliantly draws the reader into Esther's breakdown with such intensity that her insanity becomes palpably real, even rational—as accessible an experience as going to the movies. A deep penetration into the darkest and most harrowing corners of the human psyche, The Bell Jar is an extraordinary accomplishment and a haunting American classic.
I bought this book – I don't even know – maybe eight or nine years ago? I'd found this list online of 37 books that you have to read before age 25. I was really into used bookstores at that point in my life (it's really a shame that there aren't any near where I live now), and I bought probably a good fifteen or so off this list. Most of them have, of course, disappeared throughout the many moves I've made over the last nine years, but The Bell Jar has always been on my shelf.
I'll be honest now. I was a little afraid to read this book. I made it through a whopping five of those 37 books. I started and abandoned many more than I'd like to admit, so I was starting to lose faith in whoever decided that their 37 favorite books were "must-reads". (It's really a little presumptuous when you think about it.)
Also, I turned 25 already. Oops.
But I'm doing this thing where I'm trying to read all the books I own. It's a really novel concept, I know. I figure that there must have been some reason that I decided to spend money on all these books, and most of the books I've made it through have been shockingly good.
A couple weeks ago, I was combing through my shelves looking for what I wanted to read next. (I decided on The Kite Runner also, and Armada, which I got for Christmas.) I got distracted by some galleys, which usually happens. I also got distracted by some YA, which also usually happens. But then I said to myself, "Sara, you need to pick up this book. Come on."
And I was entranced.
My boyfriend said to me, "Sara, you're reading Plath?" I said, "Shh, I'm reading."
But yes, I know that this is very strange and very unexpected. I, who usually read romance novels and young adult fantasy, had chosen to read a 20th century classic about a young woman's descent into depression. It's almost as far out of my comfort zone as you can get.
But here's the thing: I really enjoyed it.
I had a lot of expectations going into this book. I thought it would be:
• filled with self-pity
• pretentious
• dated
• difficult to read
Quite honestly, I expected it to be awful.
Much to my delight, it was none of these. For a book about depression, The Bell Jar is surprisingly witty. I have never experienced clinical depression, but I found it extremely relatable. Esther could be you or me or anybody off the streets. There's nothing unusual about her. She goes about her daily life as she sinks more and more into depression. And sure, some things have changed. Electroshock therapy and insulin shock therapy are no longer the most common methods for treating depression. Dating customs are certainly different. But this book isn't dated. If anything, I was struck by how controversial this book must have been when it was published. Fifty years ago, it must have caused quite a scene when a woman wrote so openly about her sexuality.
Above all, this book was easy to read. I found myself flying through the pages. If this hadn't been one of my craziest work weeks in recent memory, I probably could have finished it in a night. (As it was, I don't think I made it past 9:30pm any night this week.)
My 2016 reading challenge includes "a book of poetry," and I have already decided that I'll be choosing Plath's Ariel.
If you've been a little skeptical of The Bell Jar, I would encourage you to pick it up. You might just end up loving it as much as I did.
---
For my 2016 reading challenge, I'm crossing off #33: a classic from the 20th century.