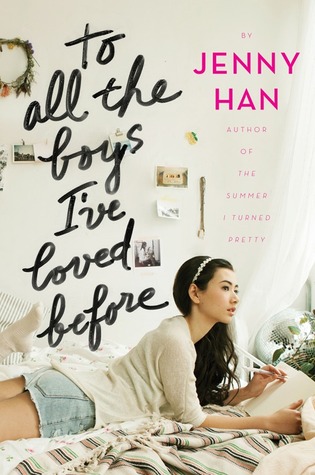 To All the Boys I've Loved Before by Jenny Han
Series: 
To All the Boys I've Loved Before 
#1
Rating: ★★★★☆
Links:
Goodreads
•
Amazon
Publication Date: April 15, 2014
Source: Borrowed
To All the Boys I've Loved Before is the story of Lara Jean, who has never openly admitted her crushes, but instead wrote each boy a letter about how she felt, sealed it, and hid it in a box under her bed. But one day Lara Jean discovers that somehow her secret box of letters has been mailed, causing all her crushes from her past to confront her about the letters: her first kiss, the boy from summer camp, even her sister's ex-boyfriend, Josh. As she learns to deal with her past loves face to face, Lara Jean discovers that something good may come out of these letters after all.
Every time Lara Jean wants to get over a boy, she writes him a letter. She fills that letter with everything she wishes she could say to him. Why she fell for him. Why she can no longer have those feelings. It's therapeutic for her, and when she's done, she hides them in a hatbox under her bed.
Then, one day, the hatbox disappears. The boys start receiving the letters. Lara Jean is humiliated. Every boy she's ever had a crush on now knows her true feelings.
The worst of all is her sister's boyfriend, Josh. Lara Jean's sister Margot just left for college in Scotland, breaking up with Josh and him heartbroken at home. Josh and Lara Jean have been friends for years, since even before Margot and Josh started dating. Her entire family thinks he's perfect, but she obviously couldn't have feelings for her sister's boyfriend. She wrote him a letter to get him out of her head. She buried her feelings and vowed never to get in the way of Margot's happiness.
But Josh receives a letter.
Lara Jean tries talking her way out of it. It was written a long time ago, she says. But Josh tells her that she references something that happened pretty recently. She's so embarrassed, so she does the only thing she can think of. She says she's dating one of the other boys who got a letter.
Peter Kavinsky is that guy. The most handsome guy in the school. Super popular. Unattainable. Lara Jean had a crush on him in middle school, but those feelings are long gone. Peter's longtime girlfriend just broke up with him for an older guy. To Lara Jean's surprise, Peter agrees to be in a fake relationship with her.
As you might expect, the lines get blurred. Lara Jean gets confused about which of these two boys she really wants.
This seems to be a polarizing book. Most of the reviews I've seen are either scathing one-stars or raving five-stars. I'm at a solid 3.5, or maybe 4. Is this the deepest book I've ever read? Certainly not. Are you going to learn important life lessons? Not likely. But it was sure a lot of fun.
Of all the characters, I think Peter and Lara Jean's little sister, Kitty, were my favorites. Peter because he's imperfect and real. Kitty because she's headstrong and spunky.
I loved the relationships between Lara Jean and her sisters. Margot had always taken care of her two younger sisters, but Lara Jean has to absorb a lot of that responsibility when Margot leaves for college. Her relationship with Kitty is rocky at the beginning of the book, but they are a great team by the end.
There were really only two things I disliked.
First was the love triangle. I never saw Josh as a viable love interest, especially given his history with Margot. It was clear to me from the beginning that despite her feelings for him, Lara Jean was never going to pursue a relationship with her sister's ex. She loved and respected her sister too much for that. Josh was kind of a jerk for constantly interjecting his opinion about her relationship with Peter and trying to make Peter look bad or feel jealous.
I also didn't understand the point of Chris, Lara Jean's best friend. Chris is wild, almost to the point of caricature. She is Lara Jean's polar opposite. She has no story. She's just there, and it's kind of weird.
But overall, I really liked this book. I read it over about three hours on a Friday night, and immediately picked up the sequel (which I'm sure I'll also read in one sitting).
Definitely recommended for fans of YA romance.
---
For my 2016 reading challenge, I'm crossing off #34: a book from the library.