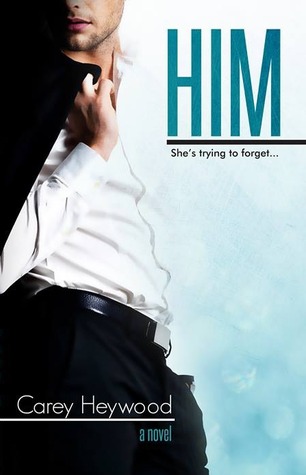 Him by Carey Heywood
Series: 
Him & Her #1
Rating: ★★★☆☆
Links:
Amazon
•
Goodreads
Publication Date: July 2, 2013
Source: Freebie
Sarah Miller hasn't been home in seven years. She thought she could stay away forever. If it wasn't for her big brother's wedding, that is. Part of her even feels silly for staying away this long. It's not like anyone even knew what happened. Well, except for him.
That guy. The one she compared all others to. The one who set the bar so high no other guy after him could even compete. The one who made her feel like anything was possible. The one she thought she would never be good enough for. The one she spent the last seven years trying to forget.
All she needs to do is make it through the next week without running into him.
The last time Sarah was home, her boyfriend – no, scratch that – her best friend broke her heart. She ran away to the other side of the country (Trenton, NJ to be exact) to get away from all of the memories of him, and hasn't been back for seven years. Now, her brother is getting married to a woman she hasn't even met and she's forced to fly back to stand up in his wedding. It's time for her to face the past and come to terms with everything that happened. She knew memories of him would be everywhere, but she didn't expect him to be such a big part of the festivities.
Okay, so first things first. This is pretty much your stereotypical second chance romance. It's very much your typical new adult story, and I've probably read like fifteen books like it in the last couple years. But that doesn't mean that it's not good. Because it is. There's just nothing surprising here, and that's why I couldn't give it more than three stars.
The story is good. I especially loved the flashbacks, because I could feel the connection between Sarah and Will. I liked that nobody was a billionaire, nobody had a weird job, and nobody had crazy backstories. These were really your average twenty-somethings, which was a really nice change. It starts as just a sweet relationship between teenagers… until a stupid misunderstanding ruins everything.
There are a couple things that I couldn't go for:
If Sarah is so close to her family, how has she not been home in seven years? I mean, I personally have moved across the country (also to NJ), but I've still been back home several times in the last few years. Weddings, funerals, graduations… life happens, and it's important to be present for it. How nothing happened over the last seven years to warrant a trip home kind of baffles me.
If Sarah and Will were such good friends for so long, how did they let a misunderstanding like this get between them? I mean, there's a reason provided in the book, but it doesn't make a lot of sense. I get how it could have happened if they had only just started dating, but they were friends for years before they started dating. It didn't quite add up.
We don't get any of the good stuff! Every time things go beyond a peck on the lips with these two, the scene just fades to black. Talk about a tease! I've seen more romance in most YA novels!
But aside from my complaints, I did really enjoy this book. I read it over a couple hours on the weekend and it was a nice surprise, especially for being a Kindle freebie. I'm still debating whether I want to her Her, the sequel. I absolutely loved Will and would love to get inside his head, but from what I understand, it's just a retelling of Him. (And it's not free, so I'm not entirely sure it's worth it.) We'll see.