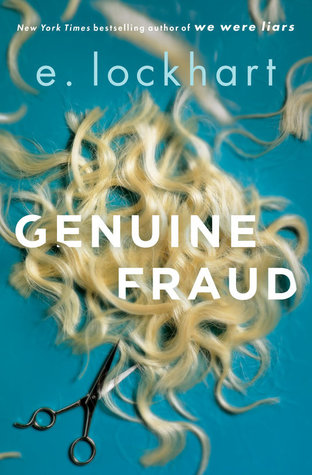 Imogen Sokoloff has disappeared.  She's known as a flighty heiress, so nobody's really all that surprised that she's jetted off to some glamorous resort or tropical country. Everybody misses her, or do they? Her best friend Jule searches for her, or does she? In this twisty mystery, what's true and what's a lie?
Genuine Fraud was one of my most anticipated books of 2017 and I was so excited when it finally showed up in my library. I loved E. Lockhart's books when I was in high school and when I read We Were Liars last year, I enjoyed that too. Unfortunately, this book just didn't do it for me.
Lockhart's writing is, as always, beautiful. I love her writing style.  Her dialogue always sounds natural. She's also really great at building an atmosphere. The plot was… a concept, for sure, but I'm mostly just confused at what the heck I just read.
The most important thing to keep in mind about this book is that it's told in reverse chronological order. This is fine in theory, and I love alternative formats, but the whole "five weeks before this" and "three days before that" type of chronology got to be very confusing. I wished there had been some kind of clear timeline at the back of the book so that I could've sorted everything out in my mind.
Now, I appreciate what Lockhart was going for. This book just wasn't for me. I wanted to know what the motivation was. I wanted to know what happened in the end. Without those two things, I just wondered what the point was. (I know this is very vague but I don't want to spoil the twists.) I think that maybe, in trying to be edgy, the book lost track of itself. I'll still be happy to read Lockhart's next book.
Final rating: ★★☆☆☆