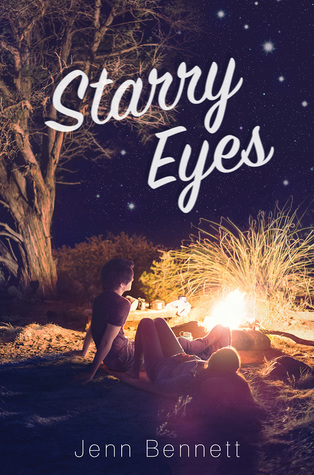 Future astrophysicist Zorie is a planner. She plans to attend an upcoming star party with her friend Avani. She plans to avoid her neighbors, the Mackenzies. She plans to help out her mom and stay out of her dad's way. When her friend Reagan invites her on a spur-of-the-moment camping trip, all of Zorie's plans are in disarray. Even though she hates disrupting her plans, drama with her parents helps her make the decision to go. The camping trip is nothing like Zorie'd expected – what was supposed to be a girls weekend ends up co-ed and it's not long before Zorie finds herself stranded in the woods with Lennon Mackenzie, her former best friend turned biggest enemy.
I've never been a camper. I'm from Wisconsin, where camping is the thing to do and I've never even once slept in a tent. I can't imagine making the decision to just rough it and hang out in the wilderness for a week, but apparently, this is a thing that people do! More power to them, but it's not for me. Except… after reading this book, I kind of want to go camping in the middle of nowhere!
Jenn Bennett checked all of my boxes in this cute, swoony romance. We've got childhood friends who had a falling out. Enemies-to-lovers. Multiple friendships getting hashed out. Interesting, multilayered characters. Some family drama that is actually properly dealt with and not just swept under the rug. There's also a healthy discussion of safe, consensual sex, which is always a plus for me (and something that I wish would have been more common when I was an actual Young Adult).
I really and truly loved this book and was legitimately upset every time I had to put it down. Luckily, I had downloaded it to my phone so I was able to sneak in a few pages here and there! I ended up finishing in less than 24 hours, just as I did with Alex, Approximately.
Jenn Bennett is an author to watch and Starry Eyes is sure to be one of my top books of the year.
Final rating: ★★★★★
I received a free advance copy of Starry Eyes from The Fantastic Flying Book Club in exchange for my honest review and participation in this blog tour. Thank you!
This review originally appeared on my Tumblr as part of the Starry Eyes blog tour.