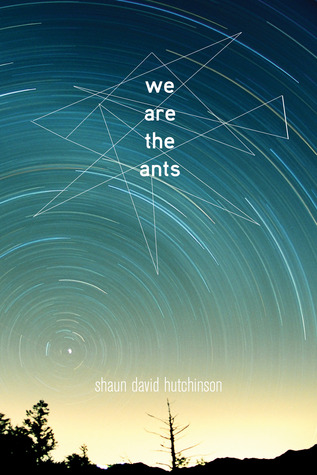 Henry Denton has spent years being periodically abducted by aliens. Then the aliens give him an ultimatum: The world will end in 144 days, and all Henry has to do to stop it is push a big red button.

Only he isn't sure he wants to.

After all, life hasn't been great for Henry. His mom is a struggling waitress held together by a thin layer of cigarette smoke. His brother is a jobless dropout who just knocked someone up. His grandmother is slowly losing herself to Alzheimer's. And Henry is still dealing with the grief of his boyfriend's suicide last year.

Wiping the slate clean sounds like a pretty good choice to him.

But Henry is a scientist first, and facing the question thoroughly and logically, he begins to look for pros and cons: in the bully who is his perpetual one-night stand, in the best friend who betrayed him, in the brilliant and mysterious boy who walked into the wrong class. Weighing the pain and the joy that surrounds him, Henry is left with the ultimate choice: push the button and save the planet and everyone on it…or let the world—and his pain—be destroyed forever.
Grief is an ocean, and guilt the undertow that pulls me beneath the waves and drowns me.
The last book I read by Shaun David Hutchinson was The Five Stages of Andrew Brawley. It knocked me over with the intense emotions and I could hardly put it down. Let's just say the same thing happened here. You should see my notes while I was reading this book.
"I'm going to start crying. Sobbing. I can't."
"I just want to hug Henry."
"I hate Marcus. I hate him so much."
"I can't cope with this."
"I love Shaun David Hutchinson."
I honestly don't know how Hutchinson does it. He has this way of writing characters that tear my heart out. First Andrew Brawley and now Henry Denton (and, hey, let's just include Diego Vega, too) — I just want to protect them with everything that I have. Every character in this book was well-developed. This book is about alien abductions and yet everything felt so realistic.
I don't give a lot of books five stars. To be honest, I usually don't go higher than four since I reserve five-star ratings for those few books that absolutely blow me away. But this book absolutely blew me away. I can't give it anything less than five stars. It was so good.
You can't live in the past. You can only visit.
Final rating: ★★★★★