Naomi and Ely's No-Kiss List by Rachel Cohn & David Levithan
Rating: ★★★☆☆
Links:
Amazon
• 
Goodreads
Publication Date: August 28, 2007
Source: Borrowed
Naomi loves Ely. And she's kinda in love with him.
Ely loves Naomi. But he prefers to be in love with boys.
Naomi and Ely have been inseparable since childhood – partially because they've grown up across the hall from each other in the same Manhattan apartment building, and also because they're best friends. Soul mates. Or are they? Just to be safe, they've created a NO KISS LIST – their list of people who are absolutely off-kissing-limits for both of them. The NO KISS LIST protects their friendship and ensures that nothing will rock the foundation of Naomi and Ely: the institution.
Until Ely kisses Naomi's boyfriend. And a fateful piece of chewing gum in the wrong place at the wrong time changes everything.
Soon a rift of universal proportions threatens to destroy their friendship, and it remains to be seen whether Naomi and Ely can find their way toward new soul-mate prospects…and back to one another.
Rachel Cohn and David Levithan have written a love story about love of all kinds, one that reminds us that any great friendship can be as confusing, treacherous, inspiring, and wonderful as any great romance.
Despite the barrage of negative reviews, I decided to pick up this book based solely on my love for David Levithan. To my surprise, although I did have some definite criticisms, I didn't hate it. I think it helps to view this book not as a romance, but as a coming of age story in which the characters have to come to grips with the idea that their lives might not turn out the way they'd expected. The book isn't going to win any awards for groundbreaking fiction, but it's a quick and fun read.
I don't think that Naomi or Ely are supposed to be particularly likable characters. They're both self-centered teens who could stand to do some soul-searching. I thought Naomi's attitude throughout much of the book was pretty gross (her wish that Ely would just set aside the pesky fact that HE LIKES BOYS and just HAVE SEX WITH HER ALREADY rubbed me the wrong way) but Ely really grew on me. Yeah, he's selfish and he's an idiot, but he owns up to it. I just wanted him (and Bruce the Second) to be happy.
Side note: References to the Myspace community and Napoleon Dynamite took me right back to my high school days.
Previously: Dash & Lily's Book of Dares • The Twelve Days of Dash & Lily
La Belle Sauvage by Philip Pullman
Series: 
The Book of Dust 
#1
Rating: ★★★★☆
Links:
Amazon
• 
Goodreads
Publication Date: October 19, 2017
Source: Borrowed
Malcolm Polstead is the kind of boy who notices everything but is not much noticed himself. And so perhaps it was inevitable that he would become a spy…
Malcolm's father runs an inn called the Trout, on the banks of the river Thames, and all of Oxford passes through its doors. Malcolm and his dæmon, Asta, routinely overhear news and gossip, and the occasional scandal, but during a winter of unceasing rain, Malcolm catches wind of something new: intrigue.
He finds a secret message inquiring about a dangerous substance called Dust–and the spy it was intended for finds him.
When she asks Malcolm to keep his eyes open, Malcolm sees suspicious characters everywhere; Lord Asriel, clearly on the run; enforcement agents from the Magisterium; an Egyptian named Coram with warnings just for Malcolm; and a beautiful woman with an evil monkey for a dæmon. All are asking about the same thing: a girl–just a baby–named Lyra.
Lyra is the kind of person who draws people in like magnets. And Malcolm will brave any danger, and make shocking sacrifices, to bring her safely through the storm.
The book starts really slowly but picks up around the halfway point. It's a good start to the series, I'm sure, but leaves a bit to be desired as a standalone. I ended up not finishing it within my library loan period, but I was lucky enough to snap up the audiobook in the half a millisecond that it was available. The book was much better on audio and I finished it within the day.
Maturity warning: LBS contains quite a bit of violence, a decent amount of foul language, and frank discussion (and description) of sex crimes. It's for an older audience than HDM.
Previously: The Golden Compass • The Subtle Knife • The Amber Spyglass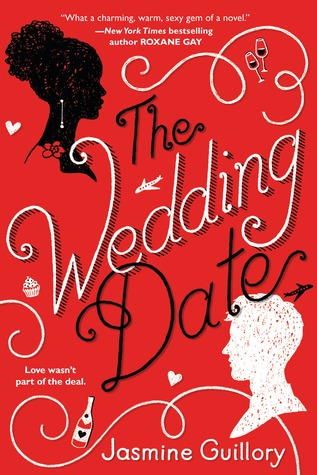 The Wedding Date by Jasmine Guillory
Rating: ★★☆☆☆
Links:
Amazon
• 
Goodreads
Publication Date: January 30, 2018
Source: Borrowed
A groomsman and his last-minute guest are about to discover if a fake date can go the distance in a fun and flirty debut novel.
Agreeing to go to a wedding with a guy she gets stuck with in an elevator is something Alexa Monroe wouldn't normally do. But there's something about Drew Nichols that's too hard to resist.
On the eve of his ex's wedding festivities, Drew is minus a plus one. Until a power outage strands him with the perfect candidate for a fake girlfriend…
After Alexa and Drew have more fun than they ever thought possible, Drew has to fly back to Los Angeles and his job as a pediatric surgeon, and Alexa heads home to Berkeley, where she's the mayor's chief of staff. Too bad they can't stop thinking about the other…
They're just two high-powered professionals on a collision course toward the long distance dating disaster of the century–or closing the gap between what they think they need and what they truly want…
This is a cute, light, sometimes witty romance. The action all happens in the first third or so of the book — I felt like it could've stopped then and I wouldn't have really missed anything. The middle third of the books is highly focused on the sexual relationship between Alexa and Drew and it feels almost like PG-rated erotica, if that makes any sense. (The sex scenes are very fade-to-black.) The last chunk of the book is just a mess of miscommunication. The book is probably worth a read for romance fans, but I didn't like it nearly as much as I thought I would.
Bonus points: interracial romance, fake dating that turns into real feelings, real lives outside of the relationship, great tacos