Today I'm doing things a little differently and bringing you the chance to win a copy of I Flipping Love You by Helena Hunting! The publisher has graciously provided one paperback copy to be mailed to the winner. Check out my review and the giveaway details below!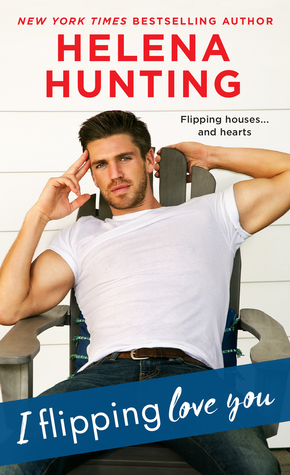 SHE'S GOT CURB APPEAL
Rian Sutter grew up with the finer things in life. Spending summers in The Hamptons was a normal occurrence for her until her parents lost everything years ago. Now Rian and her sister are getting their life, and finances, back on track through real estate. Not only do they buy and sell houses to the rich and famous, but they finally have the capital to flip their very own beachfront property. But when she inadvertently catches the attention of a sexy stranger who snaps up every house from under her, all bets are off…
HE'S A FIXER UPPER
Pierce Whitfield doesn't normally demo kitchens, install dry wall, or tear apart a beautiful woman's dreams. He's just a down-on-his-luck lawyer who needed a break from the city and agreed to help his brother work on a few homes in the Hamptons. When he first meets Rian, the attraction is undeniable. But when they start competing for the same pieces of prime real estate, the early sparks turn into full-blown fireworks. Can these passionate rivals turn up the heat on their budding romance—without burning down the house?
I FLIPPING LOVE YOU, set in the Shacking Up world, follows two people, both working in real estate, who find themselves vying for the same properties in the Hamptons, leading to a sometimes-not-so-friendly competition.
I was so excited to be invited to participate in this blog tour by St. Martin's Press! I'd never read anything by Helena Hunting — and yes, this is book three in a series — but I think this was a good place to start. Before I get into my review, I just want to put it out there that you don't need to read the first two books in the series to understand what's going on here.
I had a lot of fun reading this book. Rian was such a spitfire, never afraid to speak her mind or put Pierce in his place. She could be really sassy when she wanted to be and I loved how focused she was on her goal of getting her life back by flipping houses. I also loved Pierce, who was a total gentleman and absolutely adorable. He deserves everything he wants in life and more! I loved that he was a rich lawyer who could get pretty cocky, but he never turned into a gross alpha male stereotype.
I also loved the setting! I know I'll never be able to afford to vacation in the Hamptons, let alone live there full-time, but reading about the beaches and the restaurants and everything really made me want to see what all the fuss is about! I liked that even though all of the characters acknowledged that there was a lot of money in the area, nobody really came across as snooty or materialistic.
I suppose now I should mention the couple things that kept me from rating this book higher: the pacing and the big conflict. When it comes to the pacing, all I can really say is that it's slow. The sexy scenes are pretty sexy, the conflicts can be pretty dramatic, but overall, it always seemed like it took awhile for things to actually happen. I know that a lot of people really go for this style of storytelling, but I'd rather see things happen. As for the big conflict, I saw it coming but thought that Rian was way off-base with how upset she got. I feel like I can't really say more than that without spoiling it!
Overall, I enjoyed this book and I think I'll add the second book in the series, which features Pierce's sister, Amalie, to my TBR. I loved her character and would love to learn more about her and her fiance.
ABOUT THE AUTHOR: New York Times and USA Today bestselling author of PUCKED, Helena Hunting lives on the outskirts of Toronto with her incredibly tolerant family and two moderately intolerant cats. She writes contemporary romance ranging from new adult angst to romantic sports comedy.
Giveaway Details
And now for what you've been waiting for, the giveaway!
Do you want a chance to win a copy of this summery romance? Just comment on this review to let me know you're in!
Disclaimer: Giveaway runs May 30, 2018 – June 1, 2018 11:59pm EST. One paperback copy of I Flipping Love You by Helena Hunting will be mailed to the winner by St. Martin's Press. US only (sorry!) as per the publisher's wishes.