I was not tagged to do the You're Not Good Enough book tag, but I did see it over on Gerry's blog and thought it looked like a lot of fun!
Rules:
You pick 30 fictional characters and write their names down on pieces of paper. You then pluck two names at a time out to answer a question – so there are 15 questions. The aim of the game is to pick the character that fits the criteria the best and by doing so find the character that is not "good enough" for the answer.
Questions:
1. You only have one more spot on your spelling bee team. Who would you pick to complete your team?
Eleanor Oliphant from Eleanor Oliphant is Completely Fine
vs.
Queen Levana from The Lunar Chronicles
Hmm, hard one. Queen Levana could just telepathically screw with the other team so that they'd get their words wrong, but I'm pretty sure Eleanor knows her spelling. I'd rather win fair and square. Eleanor it is.
2. Both characters want to kill you. Which one would you kill first so you have a better chance of surviving?
Starr Carter from The Hate U Give
vs.
Adam Parrish from The Raven Cycle
Sorry, Adam. It pains me to kill you (hopefully someone can resurrect you?), but I think you're much more likely than Starr to finish me off.
3. You're on The Bachelor/Bachelorette and you're down to these two characters. Which one are you going to give your rose to?
Stella Lane from The Kiss Quotient
vs.
Blue Sargent from The Raven Cycle
I'm pretty sure that Blue and I could have some amazing adventures together. I'm going with her.
4. You've been chosen for the Hunger Games. Who would most likely volunteer in your place?
Simon Spier from Simon vs. the Homo Sapiens Agenda
vs.
The Darkling from Shadow and Bone
I don't know that The Darkling is really going to sacrifice himself for me, but then again, I don't think Simon would, either. I think this one is a draw and I'm headed into the next Hunger Games myself.
5. You're stranded on an island. Which character would you sacrifice to engage in cannibalism?
Ronan Lynch from The Raven Cycle
vs.
Izzy O'Neill from The Exact Opposite of Okay
Sorry, Izzy. I'm not sacrificing another Raven boy.
6. You're the next DC/Marvel superhero (with your own TV show, of course). Who is your sidekick?
Emmy King from The Brightsiders
vs.
Chaol Westfall from Throne of Glass
As a trained soldier with undoubtedly better moves, Chaol might be the more predictable choice here, but I'm choosing Emmy because she would be more fun to spend all that time with.
7. You're a manager of an avocado admiring company. Who would you fire for lack of communication skills?
Eelyn from Sky in the Deep
vs.
Victor Vale from Vicious
First of all, I love this question. But I think I have to fire Eelyn. She's a great warrior, but I can't see her having the best communication skills in a professional environment.
8. You've just finished a book in which your favorite character dies. Which character is most likely to comfort you?
Michael Phan from The Kiss Quotient
vs.
Nova/Nightmare from Renegades
Michael is the clear winner here. Nova would be too focused on her anarchist planning to care about fictional characters, but Michael would be all over it. He'd probably be ready with a box of Kleenex and a hug at the first sign of a sniffle.
9. Ugh, it's high school. Who would most likely be part of the popular clique?
Henry Montague from The Gentleman's Guide to Vice & Virtue
vs.
Bennett Caldwell from Love Scene, Take Two
I'm pretty sure Monty's the clear winner here. Bennett's cool, but she probably spends too much time writing her bestselling novels to devote herself to the popular crowd.
10. The day has arrived: You're finally a year older! Who would have the nerve to forget your birthday?
Evie O'Neill from The Diviners
vs.
Teddy Sharpe from Love Scene, Take Two
Evie is all about parties, so I can't imagine her forgetting anybody's birthday. Teddy's a really great guy and he'd probably set fifteen alarms on his phone so that he'd remember, but he can't take his phone on set. I'm sure he'd text the next morning to apologize.
11. You've just found an upcoming BookTube star. Who would it most likely be?
Lyra Belacqua from His Dark Materials
vs.
Farrow Keene from Damaged Like Us
I'm pretty sure if anybody's going to be famous, it would be Farrow. I can't really see Lyra going in front of a camera and talking about books, anyway. Farrow, on the other hand? Definitely making snarky comments and probably looking down on you for not having read his favorites.
12. Sleepover time! Unfortunately, you can only invite one person. Who would you invite?
Lila Bard from A Darker Shade of Magic
vs.
Lisbeth Salander from The Girl with the Dragon Tattoo
Yikes, I'm pretty sure a sleepover with either one of these characters would be dangerous! I guess I'll go with Lisbeth. She's pretty harmless unless you've wronged her.
13. Bam, you're pregnant. Who's the father/mother?
Simon Snow from Carry On
vs.
Celaena Sardothien from Throne of Glass
Celaena might be a little too reckless to co-parent my new child, so I'll go with Simon.
14. You've just written a super important text. Who would "see" it but not reply?
Joshua Templeman from The Hating Game
vs.
Richard Campbell Gansey III from The Raven Cycle
Richard Campbell Gansey III would never leave you on read. He's way too polite for that! Joshua Templeman, on the other hand, might do that just to ruffle your feathers, or just because he's too busy planning his next move with Lucy.
15. You've just woken up and it's time for breakfast. Your mom has been replaced by… who!?!
Connor Cobalt from the Addicted and Calloway Sisters series
vs.
August Flynn from the Monsters of Verity duology
Well, both of these are pretty tempting offers. As far as I can tell, I haven't done anything that would put me in danger of soul-reaping, so I should be pretty safe around August. (On the other hand, I'm pretty sure he's younger than me, so him being my new mom might be a bit weird.) Then there's Connor Cobalt, who would be entirely capable of taking care of me. (But I have a bit of a literary crush on him, so a bit awkward.) I guess I'd go with August.
I'm tagging: anybody who's interested since I just did this for the heck of it!!!
---
I was tagged by Daniel to do his Spring Cleaning Book Tag! This is definitely my favorite tag that I've seen in awhile because the prompts are just so funny. Anyway, without further ado, my answers.
Rules:
Please link back to Daniel @ Page to Page
Respond to the scenarios
Tag 5 people (or however many you like)
It's time to make your bed, but you're going to have some friends over later and want to pick the perfect book to place on your nightstand for them all to see that you're "reading". Which book do you choose?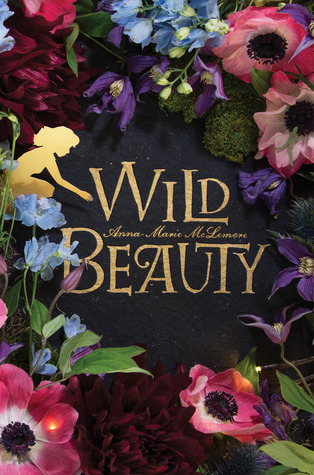 Hmm, well right now, I have eight books on my nightstand and another eleven on my desk… and I just noticed one is randomly on my windowsill? Not really sure what's going on there, my TBR (and apparently my bedroom!) is a bit of a disaster right now. Anyway, if I had to pick ONE BOOK to keep out, I think I'd have to go with Wild Beauty by Anna-Marie McLemore because the cover is just so pretty.
Side note, I should probably clean my bedroom today.
Oh no! The house needs dusting, but you just can't put that book you're reading down! What book would you buy on audio just so you could continue the story while cleaning?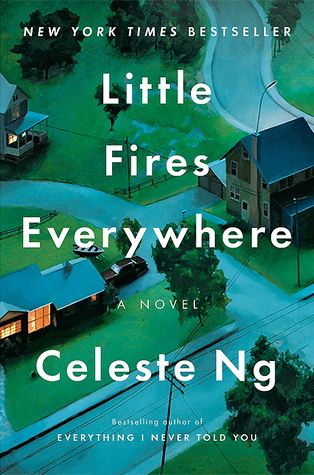 I'm going with Little Fires Everywhere by Celeste Ng. This might be considered cheating since I actually am listening to it on audio right now (often while cleaning the house) but it's really good!
Darn it! The ceiling is leaking! Turns out Mass-Market Paperbacks are the best things to soak water up! Which popular book do you use to soak up the water?
City of Fallen Angels by Cassandra Clare. It's been five years since I read this book and I'm still mad about how bad it was.
Bathrooms need a good scrubbing, and your 2007 Cosmos are a little outdated and need replacing. What book do you place in the bathroom for some light reading for when people need to take care of business?
So this is a pretty tricky question. It can't be a book that's too good, because I don't want my good books getting gross in the bathroom and I don't want people hanging out in my bathroom all day reading them. I'm going to say that it has to be a solid three-star book that's easy to read, and maybe I'll aim for a bit of light education while I'm at it. I'm going with The Language Instinct by Steven Pinker. I read this book over months and months and months in 2014. It's really interesting, but I only ever read a couple pages at a time.
Family is coming over, but you have no idea what to make for dinner! You read somewhere that tearing up the last chapter of a book whose ending you hated and sprinkling it in a casserole dish makes for the perfect meal! Which book do you choose?
So here's the thing. All the Bright Places is beautifully written. I'm not even going to argue that. It's also emotional. I mean, I was literally sobbing in my bed when I finished it. But the ending is, in my opinion, so, so wrong. I talk about this more in my review. I'm getting mad again just thinking about it.
Organization is key, right? When it comes time to organize your bookshelf, you realize you have enough room (and money) to get three new books! Which books do you buy?
I'm going for three books that I've recently seen great reviews for. The Bird and the Blade by Megan Bannen basically just sounds amazing. I'm also really intrigued by Always Forever Maybe by Anica Mrose Rissi and The Last Time I Lied by Riley Sager. Both Rissi and Sager actually live in my town so now I'm wondering if I've ever met either of them!
Finally, some peace and quiet! But, before you can relax, you realize you forgot to send your Aunt a thank you gift for the lovely "ADULT LIFE FOR DUMMIES" book she gave you for Christmas (maybe she's trying to tell you something?). What book do you send to her to show her how much (this is sarcasm) you appreciate her gift? 
So, first of all, I actually do have an aunt who would totally give me ADULT LIFE FOR DUMMIES even though I've been adulting for a solid decade. I don't want to give her a book that's really horrible since aside from the questionable motives of giving me a bunch of supposedly helpful books, she really has been very good to me over the years.
I think I'm going to go with Luckiest Girl Alive by Jessica Knoll. I didn't really enjoy this one (at all) and while I know that the aunt in question would definitely read it, I don't think she'd really like it either.
I'm tagging: Lotte | Maddie | Gerry | Alyssa Grace | Sahi
---
Do you like doing tags but I never tag you? Let me know!
Do you hate doing tags and wonder why I keep tagging you? Let me know!