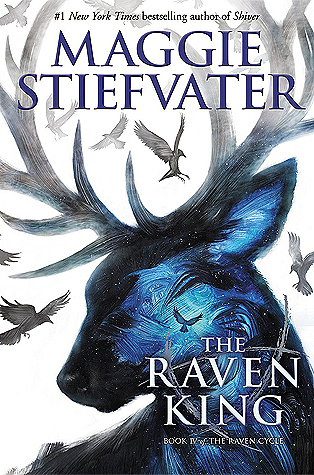 The Raven King by Maggie Stiefvater
Series: 
The Raven Cycle 
#4
Rating: ★★★★★
Links:
Amazon
•
TBD
•
Goodreads
Publication Date: April 26, 2016
Source: Borrowed from my library
All her life, Blue has been warned that she will cause her true love's death. She doesn't believe in true love and never thought this would be a problem, but as her life becomes caught up in the strange and sinister world of the Raven Boys, she's not so sure anymore.
As usual, my thoughts about a Raven Cycle book are all over the place. My totally spoiler-filled thoughts (which are, also as usual, filled with lots of exclamation points and caps) are under the jump.
131 thoughts I had while reading The Raven King:
Excuse me? RICHARD CAMPBELL GANSEY III KNEW ALL THIS TIME THAT HE WAS GOING TO DIE???
And he didn't say anything???
Where the hell is Ronan?!
Blue wants to have carnal knowledge of Gansey someday? Excuse me?
ADAM
What's happening?
POOR ADAM!
Can I help you?
Can I save you?
Why do you always need to be saved?
Can I please just keep you safe?
He's yelling for Cabeswater and nothing is happening!!!
I think Cabeswater is helping?
Is Cabeswater helping?
What's happening?
Private school boys wearing various pieces of fabric as clothing sounds like something you'd be into these days.
OH SHIT, she's going to a party with Gansey and Adam is NOT OKAY
OH SHIT, Adam's like THE TRUTH IS IMPORTANT
*pointed glare*
OH SHIT, what is the truth about you two
OH SHIT, he's so calm
(Don't think I'm missing that Adam keeps bringing up RONAN in this conversation about BLUE AND GANSEY.)
OH SHIT, he came to ask Blue how to save Gansey and found out that Blue and Gansey are dating
OH SHIT, you didn't think it was relevant that the boy who's going to die in the next year is dating the girl whose kiss will kill her true love
OH SHIT, THEY AREN'T CALM ANYMORE!!!
Why does everybody's eye hurt?!?!?
Why is Noah dying though?
This is all making me very sad, I mean I know he's already dead but still!!!
But why are they having a legit toga party
OH MY GOD RONAN LOVES ADAM
OH MY GODDDDDDDDD
OHHHHHHH MYYYYYYYYY GODDDDDDDDDD
BLUE AND GANSEY ARE NAKED TOGETHER?
WHAT
WHY DID WE CHANGE TO SOME RANDOM KIDS I HAVE TO KNOW WHAT'S HAPPENING
I thought you would be hairier
Sorry to disappoint
IT'S NO LONGER PLAY????
THEIR BELLIES ARE PRESSED CLOSE TOGETHER???
GOOD LORD HOW MANY SHIPS CAN I HAVE THERE'S ADAM AND RONAN AND BLUE AND GANSEY I CAN'T
Adam is so close to him
Adam is so close to him
Adam is so close to him
Ronan wanted to lie?
Ronan never wants to lie!
RONAN DON'T LIE TELL HIM THE WHOLE TRUTH AND NOTHING BUT THE TRUTH
Orphan Girl?
RONAN?
RONANNNNNNNN?????????
Why is it always 6:21 what's going on
IT WAS ACID
WHAT THE HELL
ORPHAN BOY 😭
Adam Parrish had saved their lives
Why is Orphan Girl kissing Adam
Ronan should be kissing Adam
Why is Orla screaming
What the hell is happening
What the hell is going on with Noah
GANSEY IS WARMTH AND MINT
I don't give one single shit about Colin Greenmantle.
*heavy sigh* Gansey is confessing their love
"Gross," Ronan said, cleverly reducing the tension
Adam is the only oxygen in Ronan's universe!!!!!!!!
Help it's happening my ship is sailing
Adam is in Ronan's childhood bedroom
HE HAS BAGPIPES?
Poor Adam
OH SHIT, they're on a mattress
OH SHIT OH SHIT OH SHIT
Ronan just sat next to him and kissed him.
Ronan just sat next to him and kissed him.
RONAN JUST SAT NEXT TO HIM AND KISSED HIM!!!!!!!!!
THEY KISSED AGAIN ADAM FELT IT IN MORE THAN HIS LIPS
HE'S TOO FULL OF WHITE FUZZY LIGHT TO MAKE ANY SORT OF LOGICAL CONNECTIONS!!!!!!!!!
Why did Ronan just leave?
OH MY GOD
RONAN FELT THAT HE HAD CAUGHT MAGIC WITHOUT DOING ANYTHING!!!!
"I can see a hooved girl you dreamed up eating styrofoam in the hall."
"Whatever, I dreamt Cabeswater."
"I did dream Matthew."
"FOR GOD'S SAKE," GANSEY SAID.
HOW ARE YOU ALL SO NONCHALANT ABOUT THIS
OH JEEZ.
"Do you LOVE her?"
"Yes," Gansey answered plainly.
RONAN KISSED ME, ADAM SAID IMMEDIATELY.
I ALSO KISSED HIM.
Jesus, Gansey said. Christ.
OH MY GOD THE ONLY THING GANSEY SAYS IS DON'T BREAK HIM
What's happening with the Gray Man?
Blue's dad is a tree?
Blue is a tree???
GANSEY DON'T BE DUMB
GANSEY DON'T
GANSEY PLEASE
I SWEAR TO GOD GANSEY IF YOU SACRIFICE YOURSELF I'M GOING TO KILL YOU
Gansey what are you doing
It's been a long time since I was confused by this series but I'm confused
What's with the hornets
Honestly, where did Henry even come from
I mean he's fine I guess but why is he here
Glendower… well… I figured.
Gansey's crying
OH MY GOD LET ME HUG YOU
NO GANSEY NO
"NO" SAID RONAN "I DIDN'T JUST COME GET YOU OUT OF THIS HOLE FOR YOU TO DIE ON PURPOSE"
THANKS RONAN
Gansey kind of wants to live
"I think you're getting KING confused with MARTYR"
NO GANSEY
NO
THANK YOU ADAM
Nothing says you have to stay dead
Adam's attacking Ronan?
Adam's trying to kill Ronan?
What is happening
OH MY GOD WHY IS ADAM POSSESSED
oh shit
This kid can't catch a break
Why is this happening? I don't like it
LET'S NOT GET CARRIED AWAY JUST BECAUSE YOU TRIED TO KILL SOMEONE
Laumonier just shot Piper?
GANSEY IS PREPARING TO DIE AND HE ASKED BLUE TO KISS HIM
BE MAGICIANS
Oh Adam
I wish you had better parents
THEY WERE FREE FREE FREE
Blue and Gansey and Henry on an all-American road trip
HE CALLS HER OPAL NOW
They had future adventures waiting for them on the ley line!
I can't believe this series is over! I loved it so much and I understand now why it's such a big thing in the YA and book blogging community. I can't wait to read more from Maggie Stiefvater — if the rest of her work is half as good as The Raven Cycle, I'll be happy.