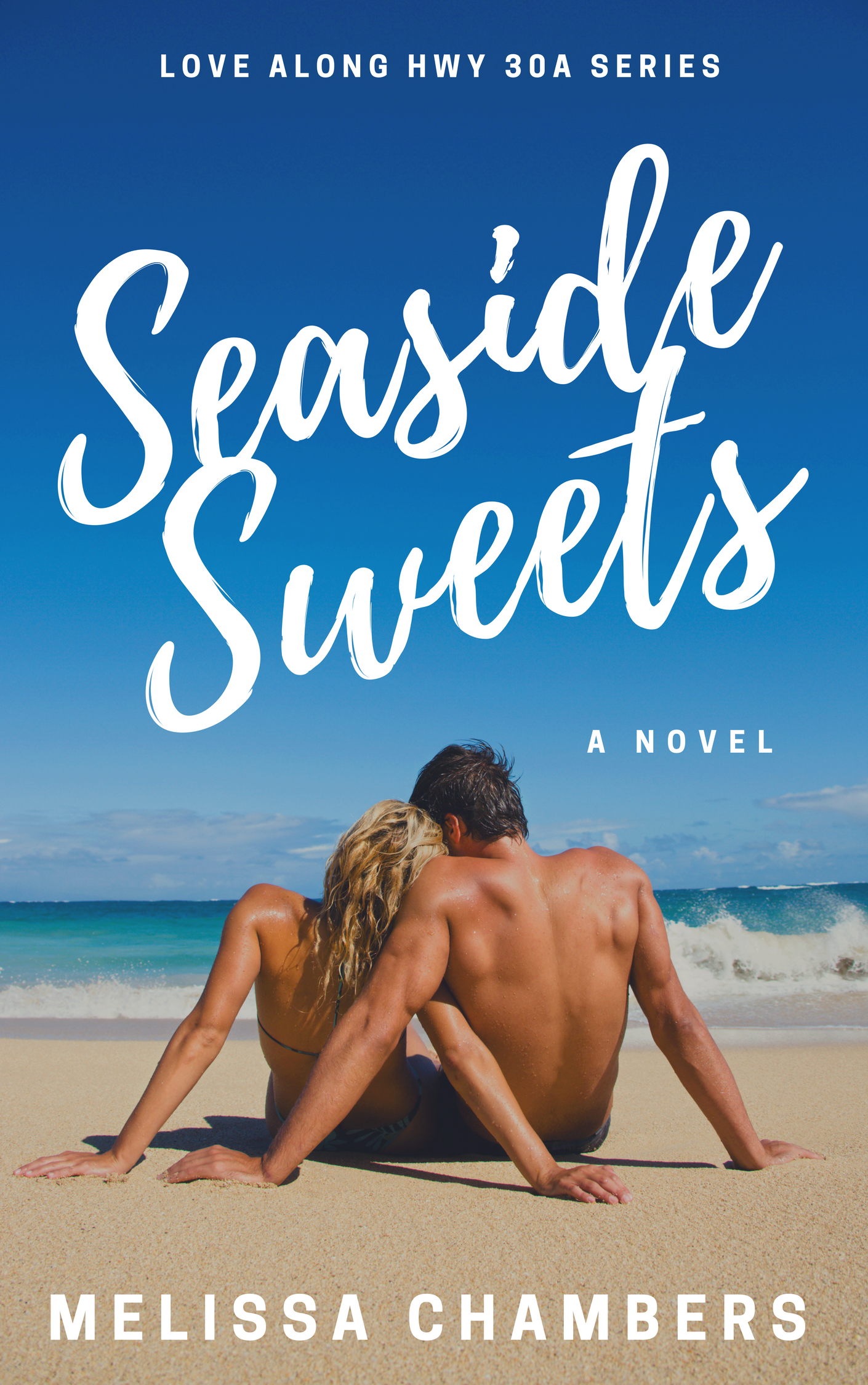 Seaside Sweets by Melissa Chambers
Series: 
Love Along Hwy 30A 
#1
Links: 
Goodreads
 ♥ 
Amazon
Publication Date: June 19, 2018
After her ex runs up her credit card, clears her bank account, and gets her fired, Seanna Perry makes her escape to the quaint beach town of Seaside, Florida. The houses are pastel, the ocean air heaven, and the men hot as the Gulf Coast sun…one in particular. But while paying the price, literally, for the last man she trusted with her heart, she's not interested in any sort of beach romance, or so she keeps reminding herself.
Living in the idyllic coastal paradise of the 30A area hasn't eased Blake Evans' guilt over what went down three years ago. He can't stop blaming himself, and certainly none of his wonderful friends can ever find out what happened. Blake's done a good job of keeping romantic feelings toward any women at bay, and he needs to keep it that way. But when Seanna begins to show him how to live again, he finds himself struggling to keep his guard up.
Seaside Sweets is book one in the Love Along Highway 30A series, which features beautiful beach communities, a circle of unique and amazing friends, and romances that will have you cheering on the couples and fanning yourself from the heat. All books are standalone and can be enjoyed in or out of order.
---
Excerpt:
An M83 song came over the speakers, electronic dance music's answer to the slow dance. She tilted her head to the side, lifting an eyebrow. "After that Chicken Dance, you got this one in the bag."

He huffed a laugh, trying to hold back his grin, but not doing a good job of it. She hadn't seen him smile this much the whole time she knew him. He pulled her to him, resting his hands on her hips. She eased her hands up to his shoulders, her stomach alive with a nervous flutter. She had always been fairly confident around men. It had been the rare bird who could put her insides into a tizzy. But there was something about Blake's quiet cool, the fact that he seemed to listen when she talked and actually care about what she said. He wasn't one of those straight guys where she felt she had a good thirty seconds then needed to wrap it up.

But more than anything, it was the way he looked at her—his blue eyes boring into hers like he knew her…like he was curious about her. And she wanted to know more about him—anything he'd be willing to share. He lifted his chin, seeming ten feet tall so close to her, sending her heartbeat up a step. She looked away, breaking under his gaze.

She leaned into his chest, as he pulled her there. She wasn't sure who had made the move—maybe both of them at the same time. She breathed in the scent of his skin and lifted her chin to get a good whiff of his neck. The subtlest hint of his body wash lingered, causing her to close her eyes and drink him in.

Her hands wanted to wander down Blake's back toward his ass—his perfectly proportioned, round ass. Tonight, it was covered by his blazer, but Halloween costume material was thin and cheap. If she could get her hands down there tonight, she could get a good squeeze in. He pulled back from her. "What are you smiling
about?"
---
I shared my review of Seaside Sweets a couple days ago, but now I'm so excited to share something else with you! It's no secret that I'm a huge music fan, so I was thrilled when Melissa Chambers offered to create an exclusive playlist inspired by her book! I hope you like it as much as I do.
It's summertime!

I'm a summer fanatic. It's probably why most books I write take place at the beach! There's nothing better than relaxing in a chair with your feet dug in the sand and a
sweet, summer tunes flowing through your earbuds.

So in celebration of summer, and of the release of Seaside Sweets, here's an exclusive playlist for Sara's followers!
Go get your summer on! And pick up a copy of Seaside Sweets for your beach bag
while you're at it! 🙂
---

Melissa Chambers writes contemporary novels for young, new, and actual adults. A Nashville native, she spends her days working in the music industry and her nights tapping away at her keyboard. While she's slightly obsessed with alt rock, she leaves the guitar playing to her husband and kid. She never misses a chance to play a tennis match, listen to an audiobook, or eat a bowl of ice cream. (Rocky road, please!) She serves as president for the Music City Romance Writers and is the author of The Summer Before Forever and Falling for Forever (Entangled Teen).
Don't forget to enter the giveaway here!