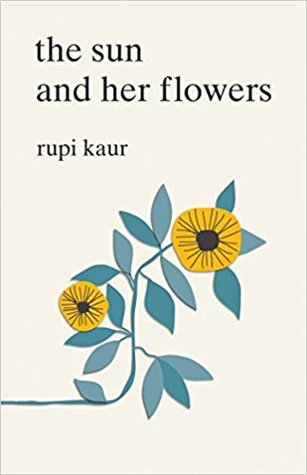 The Sun and Her Flowers by Rupi Kaur
Rating: ★★★☆☆
Links:
Amazon
•
TBD
•
Goodreads
Publication Date: October 3, 2017
Source: Borrowed
From Rupi Kaur, the #1 New York Times bestselling author of milk and honey, comes her long-awaited second collection of poetry. A vibrant and transcendent journey about growth and healing. Ancestry and honoring one's roots. Expatriation and rising up to find a home within yourself.
Divided into five chapters and illustrated by Kaur, the sun and her flowers is a journey of wilting, falling, rooting, rising, and blooming. A celebration of love in all its forms.
this is the recipe of life
said my mother
as she held me in her arms as i wept
think of those flowers you plant
in the garden each year
they will teach you
that people too
must wilt
fall
root
rise
in order to bloom
Did you know that I had this book on hold at my library for FOUR MONTHS before they emailed me and told me that hoopla is a thing? There's no wait for books on hoopla, so thanks, guys. Anyway, this collection of poetry is okay, but I think I preferred Milk and Honey. This felt really similar to it and while there were some poems that really stabbed at my heart, the majority just… didn't.
I think my favorite was the underrated heartache because let me tell you, a thing no one tells you when you move halfway across the country is that even the best friendships are super difficult to maintain. I only talk to one of my friends from Wisconsin with any regularity anymore and it breaks my heart.
Anyway, it's fine, I checked off a box on my reading challenge and I'm ready to move on.
Goodreads summer reading challenge: the colors of summer
---
Have you read The Sun and Her Flowers? Do you like this style of poetry?
Let's talk in the comments!
---
Find me all over the internet: Goodreads | Twitter | Bloglovin'