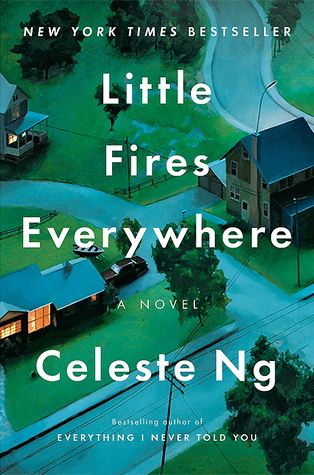 Little Fires Everywhere by Celeste Ng

Rating: ★★★★★
Links:
Amazon
•
TBD
•
Goodreads
Publication Date: September 12, 2017
Source: Borrowed
Everyone in Shaker Heights was talking about it that summer: how Isabelle, the last of the Richardson children, had finally gone around the bend and burned the house down.
In Shaker Heights, a placid, progressive suburb of Cleveland, everything is meticulously planned – from the layout of the winding roads, to the colours of the houses, to the successful lives its residents will go on to lead. And no one embodies this spirit more than Elena Richardson, whose guiding principle is playing by the rules.
Enter Mia Warren – an enigmatic artist and single mother – who arrives in this idyllic bubble with her teenage daughter Pearl, and rents a house from the Richardsons. Soon Mia and Pearl become more than just tenants: all four Richardson children are drawn to the alluring mother-daughter pair. But Mia carries with her a mysterious past, and a disregard for the rules that threatens to upend this carefully ordered community.
When the Richardsons' friends attempt to adopt a Chinese-American baby, a custody battle erupts that dramatically divides the town and puts Mia and Mrs. Richardson on opposing sides. Suspicious of Mia and her motives, Mrs. Richardson becomes determined to uncover the secrets in Mia's past. But her obsession will come at unexpected and devastating costs to her own family – and Mia's.
Little Fires Everywhere explores the weight of long-held secrets and the ferocious pull of motherhood-and the danger of believing that planning and following the rules can avert disaster, or heartbreak.
"Sometimes you need to scorch everything to the ground and start over. After the burning, the soil is richer, and new things can grow. People are like that, too. They start over. They find a way." 
As much as I want to like this kind of slow-moving, character-driven literary fiction, I often don't. In general, I tend to feel like I'm missing something when I read literary fiction. Like there's some integral part of it that I just didn't grasp. With Little Fires Everywhere, I never got that feeling. With Little Fires Everywhere, aside from a bit of a slow start, I was hooked.
I think this is probably going to be the most hyped book that I read in 2018 (we'll see) — but the hype is totally worth it. At the time of writing this review, there were 198 (electronic) holds on this book at my library! Luckily they have 34 electronic copies. Surprisingly, I only had to wait about a month for my copy.
A confession: I didn't read the blurb. I just knew that everybody loves this book and I jumped in blind. Because of that, the book went in some directions I really didn't expect! (Although even if I'd actually read the blurb, I think there were still some twists I wouldn't have seen coming.)
At first glance, the book seems to be about the teenagers. And, truly, all of the teenagers were wonderful in their own ways. (Even Moody, as he was saying unforgivable things at the end, was at least acting realistically.) I loved the strong friendship that developed between the teenagers throughout the book, but this isn't a book about them. Not really, at least.
More than anything, I think, this is a book about the parents. Their decisions. Their actions and the reactions they caused. Mrs. Richardson thinks she's doing the best thing for her four children, but she's so blind to her mistakes and the pain that they cause. Mia is a great mother, but moving Pearl all over the country has surely shaped her personality. Then we have Mrs. McCullough, a white woman who adopts a Chinese-American baby under controversial circumstances and has no idea why people are asking her if she knows a single thing about Chinese culture.
The book ends in a way that's somehow, at the same time, shocking and completely expected. I was so pleasantly surprised by how much I enjoyed it. Highly recommended if you're in the mood for a character-driven novel.
---
Have you read Little Fires Everywhere? Are you planning to?
Let's talk in the comments!
---
Find me all over the internet: Goodreads | Twitter | Bloglovin'