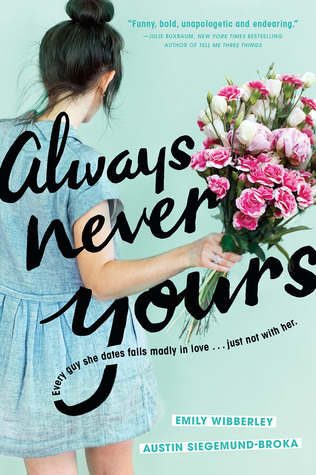 Always Never Yours by Emily Wibberley & Austin Siegemund-Broka
Rating: ★★★☆☆
Links:
Amazon
•
TBD
•
Goodreads
Publication Date: May 22, 2018
Source: Borrowed
Megan Harper is the girl before. All her exes find their one true love right after dating her. It's not a curse or anything, it's just the way things are, and Megan refuses to waste time feeling sorry for herself. Instead, she focuses on pursuing her next fling, directing theatre, and fulfilling her dream school's acting requirement in the smallest role possible.
But her plans quickly crumble when she's cast as none other than Juliet–yes, that Juliet–in her high school's production. It's a nightmare. No–a disaster. Megan's not an actress and she's certainly not a Juliet. Then she meets Owen Okita, an aspiring playwright who agrees to help Megan catch the eye of a sexy stagehand in exchange for help writing his new script.
Between rehearsals and contending with her divided family, Megan begins to notice Owen–thoughtful, unconventional, and utterly unlike her exes, and wonders: shouldn't a girl get to play the lead in her own love story?
Always Never Yours was easily one of my most-anticipated debuts of 2018. As soon as I first saw the cover and synopsis (in a Twitter thread, of all places) I knew that I had to read it. The thing is, I kind of struggled to read this book, and I'm really sad about that.
The first third of the book is just… so… boring. It's just Megan running around trying to find a boyfriend, which is fine but I felt like it was a little overdone. I mean, she's hopping from one crush to the next and I appreciated that the authors never tried to condemn her for being unabashedly flirty and boy-crazy, but I was so bored. Then the play starts up and it gets marginally more interesting, but it's so clear that Megan's after the wrong boy that, again, it's just boring. We're just sitting there waiting for her to catch up. I mean, come on, now we're like fifty percent in and everything that's happened so far is in the synopsis. I hate it when that happens.
The second half of the book is better. I felt like the pacing improved and, let's be honest, despite my problems with how the romance developed, Owen was pretty cute. (But, again, all of this is in the synopsis, so what's even the point of reading this book?) I liked how Megan started taking control of her own life and I liked the exploration of her family dynamics. But, all in all, did I like this book? Not really.
I also want to mention (and thanks to Becky for the warning going in!) that this book features a lot of cheating. Like, so much cheating. I'm not sure I've read a book (certainly not a YA romance) that features quite this much cheating. Everybody is cheating on everybody and it's exhausting. And it's hardly even addressed! I was really disappointed by that.
I guess, in the end, I'd recommend this book if you were a theater kid and you want a nostalgic look back at those days. I don't know that I'd necessarily recommend it as a romance, but you could certainly do worse if you're looking for a quick summer read.
(I also totally missed the fact that Emily Wibberley attended Princeton University while I was living down the street from the campus, so for all I know, we could've been neighbors.)
---
Have you read Always Never Yours? Does cheating in books drive you crazy?
Let's talk in the comments!
---
Find me all over the internet: Goodreads | Twitter | Bloglovin'