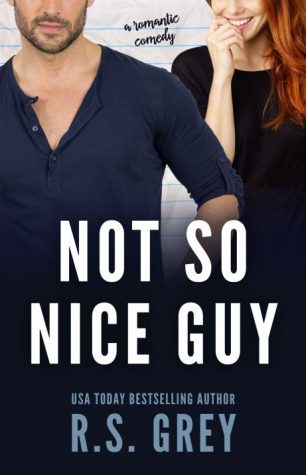 Not So Nice Guy by R.S. Grey
Rating: ★★★★★
Links:
Amazon
 •
Goodreads
Publication Date: August 9, 2018
Source: ARC from the author, via
Inkslinger PR
"Oh my god. Who that?"
I get asked this question a lot.
"Oh him?" I reply. "That's just Ian."
Just Ian is the biggest understatement of the century.
Just the Mona Lisa. Just the Taj Mahal. Just Ian, with his boring ol' washboard abs and dime-a-dozen dimpled smile.
Just Ian is… just my best friend.
We're extremely close, stuck so deep inside a Jim-and-Pam-style friendzone everyone at works assumes we're a couple – that is until one day, word spreads through the teacher's lounge that he's single. Fair game. Suddenly, it's open season on Ian.
He should be reveling in all the newfound attention, but to our mutual surprise, the only attention he seems to want is mine.
He's turning our formerly innocent nightly chats into x-rated phone calls. Our playful banter sports a new, dangerous edge.
I want to assume he's playing a prank on me, just pushing my buttons like always – but when Ian lifts me onto the desk in my classroom and slides his hands up my skirt, he doesn't leave a lot of room for confusion.
I'm a little scared of things going south, of losing my best friend because I can't keep my hands to myself. So, I'm just going to back away and not return this earth-shattering kiss – oh who am I kidding?!
Goodbye Ian, ol' buddy, ol' pal!
Helloooo mister not so nice guy.
If you've been following my blog or my reviews for any length of time that's longer than like a week, you probably know two things about me:
I'm obsessed with anything R.S. Grey writes, and
Friends-to-lovers is one of my favorite tropes.
Well, R.S. Grey just wrote a friends-to-lovers romantic comedy and I could die right now and be happy. My first note on this book was made when I read the synopsis and it was "Oh shit, this book might actually kill me." So… I'm only like half-dead, but it was really good.
Can I just say that I'm struggling to describe everything I liked about this book without any spoilers? I read the first half of the book before work and let me tell you, there is a thing that happens that left me almost incapable of going to work. I almost actually called out, but in the end, I pulled myself together like the grown adult I am because I'm saving my vacation days for actual vacations and not just overreactions to fiction.
After that certain particular thing that happens, it becomes slow burn and wow, it's like R.S. Grey just reads my mind and writes the exact thing that will drive me the craziest but that I'll also love. It's really a talent. I don't know of any other author that can do that.
My only criticism of this book comes down to a choice that Ian and Sam make toward the end, but it's really just a personal preference and most people probably won't think of it as such a big deal. I wish this wasn't an ARC review so I could actually explain myself and not just make vague statements.
I guess all I can say is please read this book. (And, of course, infinite thanks to both the author and Inkslinger PR for this ARC.)
---

About R.S. Grey
R.S. Grey is the USA Today bestselling author of thirteen novels, including THE FOXE & THE HOUND. She lives in Texas with her husband and two dogs, and can be found reading, binge-watching reality TV, or practicing yoga! Visit her at rsgrey.com
Website | Twitter | Facebook | R.S. Grey's Little Reds Facebook Group | Newsletter | Instagram
---
Previously: The Allure of Dean Harper • The Allure of Julian Lefray • Anything You Can Do • Arrogant Devil • The Beau & The Belle • The Fortunate Ones • The Foxe & The Hound • Scoring Wilder
---
Have you read Not So Nice Guy? Do you love R.S. Grey as much as I do?
Let's talk in the comments!
---
Find me all over the internet: Goodreads | Twitter | Bloglovin'