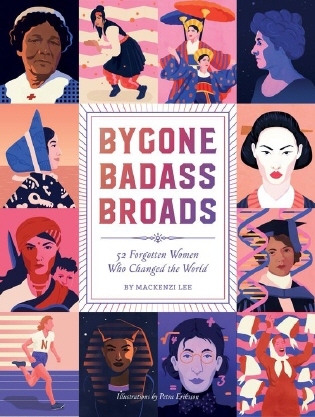 Bygone Badass Broads by Mackenzi Lee
Rating: ★★★☆☆
Links:
Amazon
•
TBD
•
Goodreads
Publication Date: February 27, 2018
Source: Borrowed
Based on Mackenzi Lee's popular weekly Twitter series of the same name, Bygone Badass Broads features 52 remarkable and forgotten trailblazing women from all over the world. With tales of heroism and cunning, in-depth bios and witty storytelling, Bygone Badass Broads gives new life to these historic female pioneers. Starting in the fifth century BC and continuing to the present, the book takes a closer look at bold and inspiring women who dared to step outside the traditional gender roles of their time. Coupled with riveting illustrations and Lee's humorous and conversational storytelling style, this book is an outright celebration of the badass women who paved the way for the rest of us.
I loved The Gentleman's Guide to Vice and Virtue and The Lady's Guide to Petticoats and Piracy is one of my most anticipated 2018 releases, so I figured I'd pick up something else by Mackenzi Lee while I impatiently wait for October 2. I'm going to keep this review short and sweet since the book itself is only 176 pages and, let's be honest, a lot of that is pictures.
The writing style: The book is basically just a published version of Mackenzi Lee's Twitter feed, which is fine, but really, I could've just scrolled through my Twitter app with the same result. It's also written really informally, which is also fine, but I found that I kept getting distracted from the actual learning by all of the author's commentary.
The women: So many inspirational women are included in this book! I definitely want to thank the author for educating me on important women in world history, and I can't believe that in all my years of school, I'd never heard a single thing about most of them.
My new hero: Ursula Nordstrom, Harper's editor-in-chief of juvenile books from 1940-1973.
Would I recommend it: Yes, if you can borrow it. Otherwise, Twitter's free.
---
Have you read Bygone Badass Broads? Are you as excited for The Lady's Guide to Petticoats and Piracy as I am? Let's talk in the comments!
---
Find me all over the internet: Goodreads | Twitter | Bloglovin'