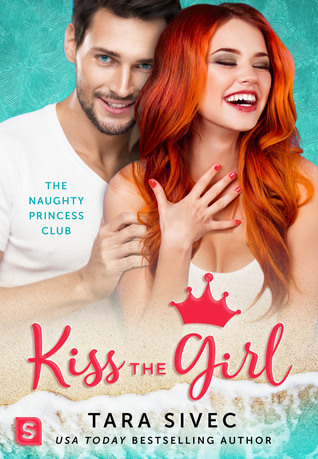 Kiss the Girl by Tara Sivec
Series: 
Naughty Princess Club 
#3
Rating: ★★★☆☆
Links:
Amazon
• 
Goodreads
Publication Date: September 4, 2018
Source: ARC from the publisher
A struggling antiques collector finds herself falling in love with a millionaire playboy; but can she ever be a part of his world?
Meet the Naughty Princess Club, a series from USA Today bestselling author Tara Sivec that brings readers to Fairytale Lane and the hilarity—and romance—that three women fall into once they decide to strut their stuff and bring on their own happily ever after.
While her friends have broken free of their insecurities, Ariel Waters is struggling to come out of her shell. Her ex-husband took away her voice and her self-confidence, and Ariel is drowning under a sea of debt to afford the alimony she has to pay him. She refuses to ever fall for a man's charms again, and is determined to make her own way.
When her house and her beloved antiques are taken by the bank after too many missed payments, Ariel finds herself adrift until the infuriatingly charming Eric Sailor comes to her rescue. Although she can't stand the millionaire playboy, Eric's kindness and unconditional support reveal hidden depths and a love that Ariel never imagined she could find.
But there are outside influences who will stop at nothing to keep them apart; can Ariel and Eric weather the storm and find a way to be together?
I loved the first two books in Tara Sivec's Naughty Princess Club series (I'll link my reviews down below) so I was really excited to get an email from St. Martin's Press/Swerve offering me an ARC of Kiss the Girl! Enemies-to-lovers is kind of my thing and I'd been anticipating Ariel and Eric's story ever since we were first introduced to them in At the Stroke of Midnight.
I liked Eric a lot. He was such a great guy and I loved that he just gave Ariel a yacht. Why can't someone just give me a big yacht to live on all by myself? I need my personal space. In that way, I really related to Ariel. But aside from that… Ariel is just so prickly. It wasn't a surprise, really, since it's not like she was a ball of sunshine in the previous two books, but I found it really hard to connect with her. I'm all for my female protagonists being complex and layered and having their own issues, but Ariel created a lot of her own problems but blamed them on other people and that was hard for me to deal with.
The relationship between Eric and Ariel was actually pretty cute. Eric was so supportive of her and I loved the romance once Ariel got over herself and stopped pushing him away. But for the actual story? I don't know. I just felt like, compared with the last two books in the series, the parallels with the actual Little Mermaid story were pretty forced. The whole plot felt kind of rushed and I just didn't love this one as much as I'd expected. Not to mention that the whole plot with Ursula had me rolling my eyes. (Are these grown adults or teenagers? Sometimes I couldn't tell.)
Kiss the Girl wasn't a bad way to spend a few hours, but I don't know that I'd necessarily recommend it to anybody other than fans of the previous two books in the series.
Previously: At the Stroke of Midnight | In Bed With the Beast
---
Have you read Kiss the Girl? Do you like this kind of retelling?
Let's talk in the comments!
---
Find me all over the internet: Goodreads | Twitter | Bloglovin'