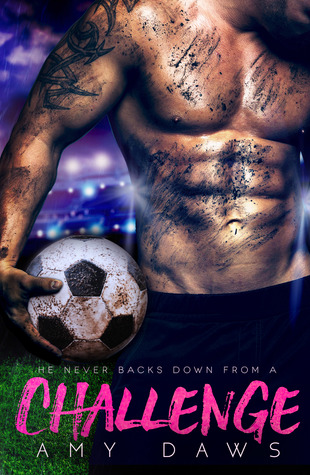 Challenge by Amy Daws

Series: 
Harris Brothers 
#1
Rating: ★★☆☆☆
Links:
Amazon
• 
Goodreads
Publication Date: September 23, 2016
Source: Freebie
He's her patient. She's his doctor. They shouldn't. But God, do they want to.
Camden Harris, the famously hot, hulk of a footballer is laid up in a London hospital. But his busted knee doesn't stop him from running his well-practiced game on Indie Porter—his redheaded spitfire of a doctor. She's not his type, not even close. But she could be the perfect distraction from the soul-crushing damage this injury could cost him.
Indie's tired of her naivety putting a target on her back. As a gifted child, she's let her education take the front seat her whole life. But a fling with a footballer like Camden might be just what she needs to grab life by the balls.
And he could be the perfect guy for the plan she's been sitting on for over two years.
But when feelings make a final play, there's no amount of medicine that can heal the damage to their hearts.
So, we're back into the borderline erotica romance reviews. It's been a while. Welcome back to the dark, dusty corners of my Kindle. This week's selection, Challenge, is actually the least bad book that falls into this category in at least the last several months. In fact, I was all set to not absolutely hate this book when I got to this paragraph:
He leans in to drop a soft kiss on my neck and murmurs, "You're very colourful, Indie Porter." He lingers for a moment, running his nose along the length of my collarbone. When he finally pulls back, he sighs as if he's just feasted on the most delicious bouquet of flowers.
I mean… I don't know about you, but I don't really go around eating bouquets of flowers and then sighing, so I'm not really sure how to imagine this scene. Maybe I'm really missing out in life. Maybe I need to get myself to a florist ASAP.
That was weird, but at that point, I still didn't hate it. I mean, the book isn't amazing. It's not going to win any awards. It's your standard smutty sports romance, and that's fine. The actual smutty bits were pretty surprisingly well-written. The rest? I don't know how hospitals in the UK work, but this isn't how hospitals work here in the US. I was able to get over that at the beginning of the book, but it just got really over-the-top at the end.
There was also a comment toward the end that really rubbed me the wrong way. It's meant in a friendship context, not in a romantic relationship context, but still, the sentiment is 100% wrong.
Using me as a punching bag is called love, darling.
That is not called love. Please do not let anyone use you as a punching bag. This is, of course, metaphorically speaking. Our heroine, Indie, has just unleashed some very, very rude comments at her best friend, who somehow doesn't care. But verbally or physically, intentionally hurting someone is not love.
I really can't recommend this one, but it does get one single bonus point for being the first romance novel I've ever read that includes the word "subungual."
#killingthetbr: 1 year on shelf
---
Have you read Challenge? What's your favorite sports romance?
Let's talk in the comments!
---
Find me all over the internet: Goodreads | Twitter | Bloglovin'