Just when I thought I had already done all the fall-themed book tags, I found out that there was another one! Thanks, Clarissa, for tagging me in this one! ❤
---
Crunching Leaves: The world is full of color. Choose a book that has reds, oranges, and yellows on the cover.
A book I loved: Ready Player One by Ernest Cline
A book I hated: Allegiant by Veronica Roth
A book in between: The Romance Reader's Guide to Life by Sharon Pywell
Cozy Sweater: It's finally cold enough to don warm cozy clothing. What book gives you the warm fuzzies?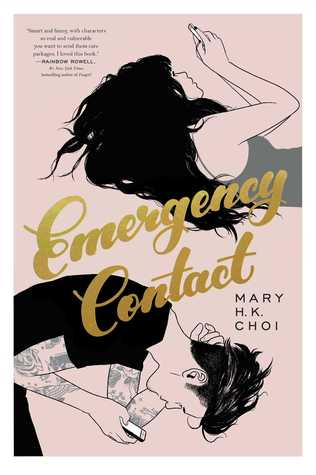 I still get the warm fuzzies thinking about Emergency Contact.
Fall Storm: The wind is howling and the rain is pounding. Choose your favorite book OR genre that you like to read on a stormy day.
It's been pretty stormy here in New Jersey recently, and I have been marathoning the Throne of Glass series.
Cool Crisp Air: What's the coolest character you'd want to trade places with?
I said it when I reviewed it and I'll say it again now — Bex is way too cool for me.
Hot Apple Cider: What under hyped book do you want to see become the next biggest, hottest thing?
Honestly, Love Scene, Take Two was the most adorable book and I don't even know how it hasn't blown up. Four months after its release and it's still under 350 ratings on Goodreads!
Coat, Scarves and Mittens: The weather has turned cold and it's time to cover up. What's the most embarrassing book cover you own that you like to keep hidden in public?
I'm sure that I probably have some embarrassing book covers (although most would be Kindle books, I'm sure) but honestly… I don't really care that much. People can judge me for what I'm reading if they want to, but I'll just be over here enjoying what I'm reading and writing blog posts about it.
Pumpkin Spice: What's your favorite fall time comfort food/foods?
First of all, I love pumpkin anything. Every fall, I make pumpkin cupcakes with cinnamon cream cheese frosting and take them to work and they're always gone within like an hour. I also love apple, so apple pie, apple crisp, apple turnovers, apple cider, apple cider donuts from this orchard by my house, spiced apple juice from the fancy juice shop downtown… anything, really.
---
I'm not tagging anybody for this one, but if you love fall (or if you just really love tags), please do it and link back to me so that I can see your answers! ❤