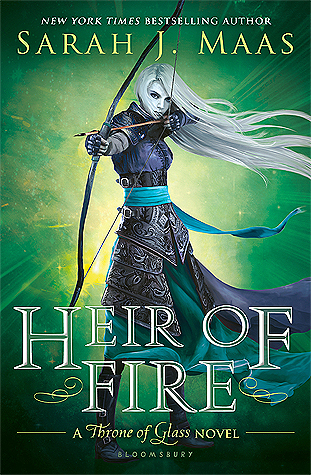 Heir of Fire by Sarah J. Maas
Celaena has survived deadly contests and shattering heartbreak―but at an unspeakable cost. Now, she must travel to a new land to confront her darkest truth . . . a truth about her heritage that could change her life―and her future―forever. Meanwhile, brutal and monstrous forces are gathering on the horizon, intent on enslaving her world. Will Celaena find the strength to not only fight her inner demons, but to take on the evil that is about to be unleashed?
The bestselling series that has captured readers all over the world reaches new heights in this sequel to the New York Times best-selling Crown of Midnight. Packed with heart-pounding action, fierce new characters, and swoon-worthy romance, this third book will enthrall readers from start to finish.
I jumped into Heir of Fire immediately after finishing Crown of Midnight, and (despite my rating of three stars) I'm glad that I did. Much like with Crown of Midnight, I think it's going to be difficult to review this book without a lot of spoilers, so I'm going to be pretty vague.
One thing that I want to say is that the main reason for my lower rating is the pacing. There were sections of the book that moved so fast and then there were sections where it felt like nothing happened. It was kind of all over the place and it made it hard to both get into the story and stay in the story. I'm not sure if it's 100% the book's fault (it could also be me) but I got distracted a lot more than normal when I was reading it.
But, going along with the kind of review I did for Crown of Midnight, here are my bullet points for Heir of Fire:
Of the new characters, I think Rowan is my favorite. He did some questionable things, but I think that I liked him overall.
I did not like Manon at the beginning of this book, but she started to grow on me toward the end. (Abraxos is my favorite and I will protect him with my life.)
Celaena has so many names and she went by all of them in this book so I never knew what to call her. (I have made my decision as of the end of the book, but I'm not going to say just in case someone hasn't read this book.)
We didn't get to see a lot of Chaol in this book, but I guess I still like him?
I love Dorian and his messy tower of books.
I'm already reading Queen of Shadows, so look out for that review soon.
---
Have you read Heir of Fire? Is this series on your TBR?
Let's talk in the comments!
---
Find me all over the internet: Goodreads | Twitter | Bloglovin'