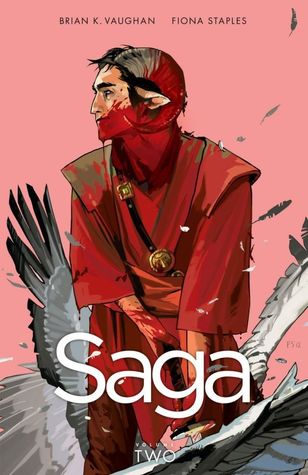 Saga Vol. 2 by Brian K. Vaughan
The smash-hit ongoing epic continues! Thanks to her star-crossed parents Marko and Alana, newborn baby Hazel has already survived lethal assassins, rampaging armies, and alien monstrosities, but in the cold vastness of outer space, the little girl encounters something truly frightening: her grandparents!
I'm not really clear on why I waited so long to read this series, other than mistakenly thinking that I didn't really like graphic novels. Let me tell you, I was wrong. I'm enjoying this series so much and I don't even know what I'm going to do with myself once I'm caught up.
Volume 2 of Saga was even better than Volume 1. I love all of the main characters, but I have a soft spot for Alana. She's just… so funny. And she loves books. And amid all the fighting and the crazy things that happen to her, she's really just trying to be a great mom.
I thought that the introduction of Marko's parents was great and I'm also really enjoying the Slave Girl/The Will/Lying Cat storyline. I may have actually screamed at one point when a certain thing happened to Lying Cat. Also, the walrus and the seal on Quietus are perfect and I love them.
#mm18: family
---
Have you read any of Saga? What's your favorite graphic novel?
Let's talk in the comments!
---
Find me all over the internet: Goodreads | Twitter | Bloglovin'