Shyla @ Words and Stitches is really great at creating her own tags, so I was happy to see that I'd been tagged for this one!
What is the first book you remember being attached to?
I really, really loved Doctor Dan the Bandage Man when I was little. I used to ask my grandma to read it to me over and over and over again!
What is the first book you remember writing a book report for?
So, back in fifth grade, we had to give a video book report. This was in 2000, for your reference, so it's not like we could just whip out a cell phone. No, they dragged this enormous camcorder into an empty classroom and we all recorded our book reports one right after another. My book was The Year My Life Went Down the Loo and I only chose it because the name made me laugh. I ended up really liking that book, though!
What is a book you were forced to read for school but ended up loving?
The Girl With the Dragon Tattoo! It's definitely not the only book I was forced to read that I enjoyed, but it's probably my favorite thing that I was ever forced to read. I ended up giving a 75 minute presentation on it!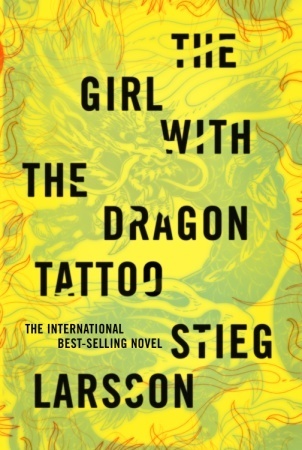 What is the first book you remember being given as a gift?
I've been given books as gifts for my entire life (I come from a family of readers) but I remember one Christmas when multiple relatives gave me Trickster's Choice by Tamora Pierce. I didn't know what to do, so I still have several copies of that book somewhere.
What is a book that introduced you to one of your favorite genres?
We all know that I love romance, so I'll talk about that. I remember being in middle school and going to the Bookworld on Main Street. My mom would just let me look around and get a book or two and one day, I found this book series with great titles! Like Mates, Dates, and Inflatable Bras! Hilarious! I bought it and I fell in love. I read the rest of the series followed by the rest of the YA romance section. (It was not a big bookstore.) After that, my mom started bringing me Nicholas Sparks books and let me tell you, I was a little scandalized but I sure read the heck out of those books.
What was the earliest book series you remember obsessing over?
This is probably the most cliche answer ever, but definitely Harry Potter. I don't think there was anybody in my elementary school who was not obsessed with that series.
What was a childhood book that always cheered you up?
Oh, that's a good question. Maybe something by Beverly Cleary? I had a pile of her books at my grandma's house. I remember reading The Mouse and the Motorcycle so many times.
What is your earliest book-related memory?
I remember my grandma very patiently reading me book after book after book and never once complaining about it. She was the best. ❤
---
I'm not tagging anybody today, but please feel free to steal this tag if you want! What were some books that made your childhood? Let's talk in the comments!