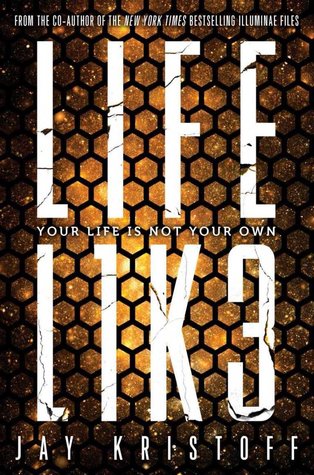 Lifel1k3 by Jay Kristoff
Series: Lifelike #1
On a floating junkyard beneath a radiation sky, a deadly secret lies buried in the scrap.
Eve isn't looking for secrets—she's too busy looking over her shoulder. The robot gladiator she's just spent six months building has been reduced to a smoking wreck, and the only thing keeping her Grandpa from the grave was the fistful of credits she just lost to the bookies. To top it off, she's discovered she can destroy electronics with the power of her mind, and the puritanical Brotherhood are building a coffin her size. If she's ever had a worse day, Eve can't remember it.
But when Eve discovers the ruins of an android boy named Ezekiel in the scrap pile she calls home, her entire world comes crashing down. With her best friend Lemon Fresh and her robotic conscience, Cricket, in tow, she and Ezekiel will trek across deserts of irradiated glass, infiltrate towering megacities and scour the graveyard of humanity's greatest folly to save the ones Eve loves, and learn the dark secrets of her past.
Even if those secrets were better off staying buried.
Your past doesn't make calls on your future. It doesn't matter who you were. Only who you are.
I bought Lifel1k3 in one of my many book-buying binges of the summer. It sat on my desk for a good few months before I finally picked it up. I was in a little bit of a slump when I started reading it. I've been having trouble focusing on novels recently, hence the reviews of other things, like graphic novels. This book might have just pulled me out that slump.
I kind of expected to love Lifel1k3 since I loved Nevernight and Godsgrave so much. It's a very different type of story, but it's still so good.
The biggest thing for me was probably that I loved the characters so much! Eve was great, but Lemon Fresh and Cricket really stole the show. I have a soft spot for sassy robots, and Lifel1k3 has so many sassy robots. It's no wonder I liked it so much. I also really liked the whole concept of Lifelikes and I really can't wait to read more about them in the next book. (Whenever that will be.)
This book was just so great and now I think I need to go read the rest of Jay Kristoff's books because he's quickly becoming one of my favorite authors.
#killingthetbr: 3 months on shelf
---
Have you read Lifel1k3? Is it on your TBR?
Let's talk in the comments!
---
Find me all over the internet: Goodreads | Twitter | Bloglovin'