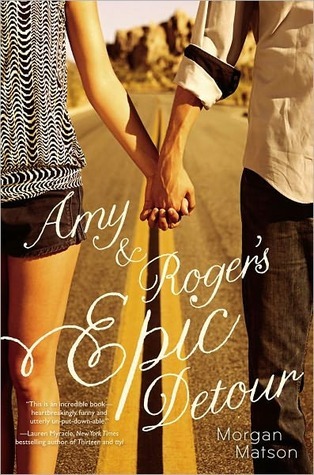 Amy & Roger's Epic Detour by Morgan Matson
Amy Curry is not looking forward to her summer. Her mother decided to move across the country and now it's Amy's responsibility to get their car from California to Connecticut. The only problem is, since her father died in a car accident, she isn't ready to get behind the wheel. Enter Roger. An old family friend, he also has to make the cross-country trip – and has plenty of baggage of his own. The road home may be unfamiliar – especially with their friendship venturing into uncharted territory – but together, Amy and Roger will figure out how to map their way.
Morgan Matson is one of my favorite YA contemporary authors, but for some reason, I had never gotten around to reading Amy & Roger's Epic Detour. I was surprised to find it for $4.00 at a used bookstore and even more surprised when I didn't just let it sit on my shelf, gathering dust, for six months.
Amy & Roger felt different from the rest of Morgan Matson's books, but I loved it so much. It's a super slow-burn romance that mainly focuses on how Amy is dealing with the death of her father. I'll admit that the premise isn't exactly the most believable (Amy and Roger are sent on a cross-country road trip by their families), but you know what? I can get over it. This book was so cute.
One of my favorite things about this book was the playlists! There are so many playlists and they include songs from so many bands that I love. And there are so many songs I haven't thought about in years, like Baby, It's Fact by Hellogoodbye and Quietdrive's cover of Time After Time and Beating Heart Baby by Head Automatica. I used to be obsessed with Head Automatica when I was in high school, so that was like a super throwback for me. It was great. Also, it made me so happy to see all the Jack's Mannequin and Something Corporate songs that were included in this book. Basically, everything about the music featured in Amy and Roger's playlists made me happy.
And now I want to talk about tropes. I kind of feel like I talk about tropes all the time and the whole book blogging universe probably knows that I adore friends-to-lovers and enemies-to-lovers, but one trope that I don't think I ever really talk about is one bed. I am a sucker for this trope. It gets me every time. There's just something so cute and just awkward enough about two people finding out they need to share one bed and oh my god, Amy and Roger have to unexpectedly share a bed so many times in this book. I loved it. I swooned each time.
But there was one thing that kept me from giving this book five stars, and this is me speaking as an adult who is probably at least ten years beyond this book's intended audience: I could not get over the fact that Amy was in high school and Roger was in college. It's not a big age difference, but I just feel like, even setting aside the possibly questionable legality of this relationship, there is such a huge difference in the maturity level of a high school student and someone in college. I doubt that this would've bothered me when I was Amy's age, but as an adult, it just felt a little creepy to me.
Even with that one negative, though, I really loved this book. I was looking for a cute contemporary when I picked it up and that's exactly what I got. Morgan Matson never disappoints and I would absolutely recommend this book.
#mm18: family
Previously: Since You've Been Gone • The Unexpected Everything • Save the Date
---
Have you read Amy & Roger's Epic Detour? Have you ever done a cross-country road trip?
Let's talk in the comments!
---
Find me all over the internet: Goodreads | Twitter | Bloglovin'