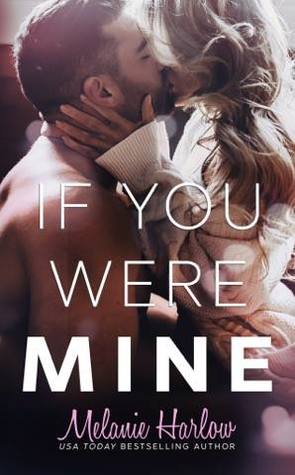 If You Were Mine by Melanie Harlow
Series: After We Fall #3
Rating: ★★★★☆
Links:
Amazon
 • 
TBD
 • 
Goodreads
Publication Date: February 28, 2017
Source: Kindle Freebie
Theo MacLeod wasn't supposed to be the one.
Tall, dark and handsome suits me just fine, but the cocky grin, know-it-all attitude, and mammoth ego? No thanks. I only hired him so I wouldn't have to sit at the singles table again. It was just pretend.
He wasn't supposed to kiss me.
My heart wasn't supposed to pound.
We weren't supposed to spend the night together—the hottest night of my life.
One night turns into a snowed-in weekend away, and even the blizzard of the century can't cool the fire between us. I can't get enough—of his smile, of his body, of the way he makes me feel.
We're nothing alike. He's a daredevil, and I'm a nervous Nellie. He's a drifter, and I want to put down roots. He's an opportunist with a checkered past, and I'm a Girl Scout volunteer.
But none of it matters when I'm in his arms.
I know he's made mistakes. I know his wounds are deep, and he doesn't trust easily. I know he doesn't believe he could ever be enough to make me happy, but he could.
All he has to do is stay.
It's not really a secret that I've been in a bit of a reading slump lately. I think it's partially my dramatic life and partially the fact that I've been trying to read a lot of the same genre back-to-back and that never really goes well for me. I decided to take a break from all of the YA fantasy novels I've been attempting and pick up a nice contemporary adult romance.
It really did the trick, because I flew through this book and I loved it so much.
I mean… this book. I don't even know what to say about it. I loved both Claire and Theo. I loved how much they cooked and baked together. I loved their sexual tension even though it just about killed me. And when I say "it just about killed me," I really mean it. I almost actually died from the sexual tension in this book. Melanie Harlow gets me every time.
My only criticism of this book is the same criticism I've had of every Melanie Harlow book I've ever read — there comes a point in the middle where she kind of loses the plot and the characters just have a bunch of sex. And that's fine and I've come to expect it in her books, but it's not something that, to me, warrants five stars.
Other than that, though, this book was such a great way to spend a Saturday night. I think I'll jump right into another of Melanie's books.
#killingthetbr: 13 months on shelf
---
Have you read If You Were Mine? Do you like Melanie Harlow's books?
Let's talk in the comments!
---
Find me all over the internet: Goodreads | Twitter | Bloglovin'