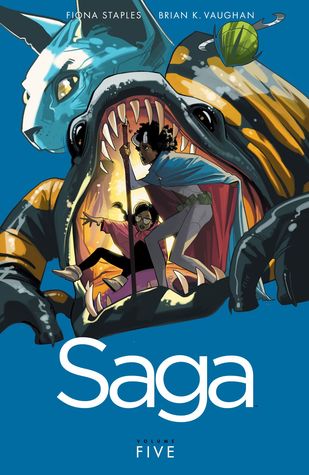 Saga Vol. 5 by Brian K. Vaughan
Multiple storylines collide in this cosmos-spanning new volume. While Gwendolyn and Lying Cat risk everything to find a cure for The Will, Marko makes an uneasy alliance with Prince Robot IV to find their missing children, who are trapped on a strange world with terrifying new enemies.
Okay, so here's the thing: Volume 5 of Saga was good, but it was probably my least favorite of the series. It's still four stars, just… a lower four stars than the previous four volumes. (If that makes sense.)
I don't have a lot of words to say about this one, but I love Ghüs so much. He's maybe taken over Lying Cat's place as my favorite character. He's just so adorable and perfect.
#mm18: family
---
Have you read any of Saga? What's your favorite graphic novel?
Let's talk in the comments!
---
Find me all over the internet: Goodreads | Twitter | Bloglovin'