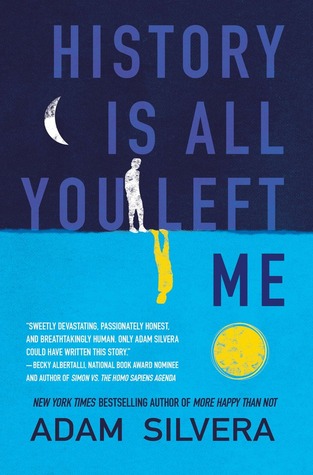 History Is All You Left Me by Adam Silvera
When Griffin's first love and ex-boyfriend, Theo, dies in a drowning accident, his universe implodes. Even though Theo had moved to California for college and started seeing Jackson, Griffin never doubted Theo would come back to him when the time was right. But now, the future he's been imagining for himself has gone far off course.
To make things worse, the only person who truly understands his heartache is Jackson. But no matter how much they open up to each other, Griffin's downward spiral continues. He's losing himself in his obsessive compulsions and destructive choices, and the secrets he's been keeping are tearing him apart.
If Griffin is ever to rebuild his future, he must first confront his history, every last heartbreaking piece in the puzzle of his life.
Alright, here we go. I pretty much spent the entire month of December struggling to make my way through this book. It's not necessarily that it's a bad book, but it wasn't for me. Let me tell you all the reasons why.
First and most importantly, I don't like sad books, so I'm not sure why I even picked this up. I mean, I bought it in June when I was really highly anticipating What If It's Us, so I guess that's why. But had I just read the synopsis, I would have been able to see that I wouldn't like this book. So I guess that's on me.
Second, rather than slogging through this book for three weeks, I should have just DNFed this book at the end of week one and called it a day. I knew from the first few pages that I wasn't getting along with the writing style. It's not that it's badly written, but there was a lot about it that annoyed me.
There were some sentences that I just… kind of stared at and wondered why they existed:
"I'm sorry. That was a dickhead thing to say. I need a condom for my mouth." [how would that even work?]
"Rosie may be half a decade older than my mom, but she's been consistently going to the gym, and I think I can even feel some abs coming in as we hug." [excuse me, what kind of weird hug are you giving your aunt that you can feel her abs??]
It also bothered me that sometimes we'd get emotions coming through really clearly just based on dialogue and then it would also be explained in the narration. I don't know how to explain this without spoilers. It just came across that Silvera either wanted to make the book longer or thought his readers were dumb.
Another thing I don't know how to tackle without spoilers is all of the relationships Griffin has in this book. Yes, the big relationship is with Theo, but there are also two other relationships, one of which makes sense and one of which I just felt was wholly unnecessary and completely ruined the book for me. I saw it coming from about eighteen miles away, but it still made me angry. I wish the new WordPress editor would let me do the thing where I hide spoilers, but it doesn't, so I just have to be vague.
And, like… I get that teenagers are dramatic. I was once a very dramatic teenager myself. But the characters in this book are so dramatic. And I feel like they aren't realistic high school students, either. A three-way spooning session between opposite gender friends? Platonic sleepovers in which they're just in their underwear? Literally kissing and having sex with everyone you talk to? Maybe I was just a sheltered child, but yikes.
Again, I don't think that History Is All You Left Me is necessarily a bad book. But it absolutely wasn't for me, and I would definitely hesitate to recommend it.
#killingthetbr: six months on shelf
---
Have you read History Is All You Left Me? Do you like to read books about grief and/or mental illness? Let's talk in the comments!
---
Find me all over the internet: Goodreads | Twitter | Bloglovin'