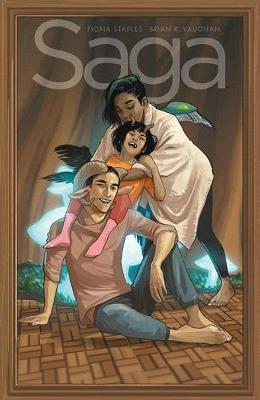 Saga, Vol. 9 by Brian K. Vaughan
The multiple Eisner Award-winning series returns with a spacefaring adventure about fake news and genuine terror. Get ready for the most shocking, most impactful SAGA storyline yet.
Well, I am officially caught up on Saga and I've joined the group of people crying over the year-long hiatus the authors are taking before releasing the next volume.
I'm not sure what I can really say about this one without getting into some serious spoilers, but let me just say that the ending killed me. I'm hoping that it won't, um, actually be true? I don't even know how to say this without giving away the ending. That was vague but I think you'll know what I mean if you read it.
I don't know what to do with myself for the next year, so I guess I'm just going to read Paper Girls while I wait.
#ps19: a book about a family
---
Have you read any of Saga? What's your favorite graphic novel?
Let's talk in the comments!
---
Find me all over the internet: Goodreads | Twitter | Bloglovin'