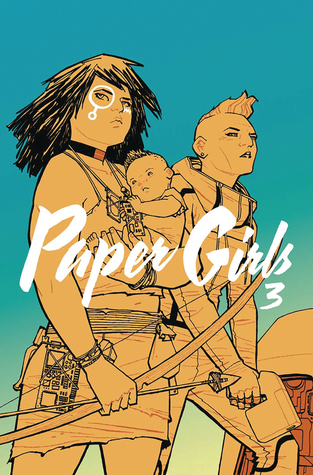 Paper Girls, Vol. 3 by Brian K. Vaughan
The multiple Eisner and Harvey Award-winning series from BRIAN K. VAUGHAN and CLIFF CHIANG continues, as newspaper deliverers Erin, Mac and Tiffany finally reunite with their long-lost friend KJ in an unexpected new era, where the girls must uncover the secret origins of time travel… or risk never returning home to 1988. 
In volume 3 of Paper Girls, the girls find themselves in prehistoric times. Although I didn't like this volume as much as the previous one, I thought that this time jump was interesting and I did like the addition of Wari and Jahpo. I'm really curious to see what will happen with them next!
The only other thing I really feel like mentioning about this volume was the development of a certain relationship. I'm trying to say this with no spoilers and it's really hard, but this was a nice plot twist and I can't wait to see where Vaughan is going to go with it!
---
#mmd19: three books by the same author
---
Have you read Paper Girls? What's your favorite graphic novel?
Let's talk in the comments!
Find me all over the internet: Goodreads | Twitter | Bloglovin'