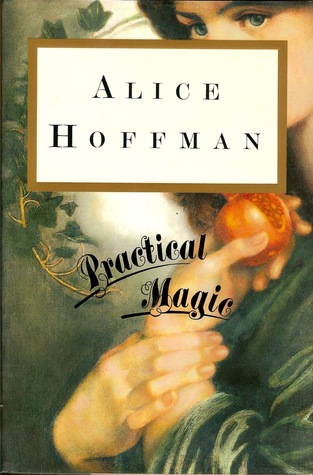 Practical Magic by Alice Hoffman
The Owens sisters confront the challenges of life and love in this bewitching novel from New York Times bestselling author Alice Hoffman.
For more than two hundred years, the Owens women have been blamed for everything that has gone wrong in their Massachusetts town. Gillian and Sally have endured that fate as well: as children, the sisters were forever outsiders, taunted, talked about, pointed at. Their elderly aunts almost seemed to encourage the whispers of witchery, with their musty house and their exotic concoctions and their crowd of black cats. But all Gillian and Sally wanted was to escape.
One will do so by marrying, the other by running away. But the bonds they share will bring them back—almost as if by magic…
Back in 2017, I was lucky enough to receive an ARC of Alice Hoffman's The Rules of Magic. I loved that book so much and decided that I needed to read Practical Magic asap. Well, fast forward a year and a half, and I found it at a used bookstore. Fast forward another three months and I've finally read it. It only took constant (though well-meaning and affectionate) prodding from one of my friends, who wanted to borrow it.
Almost every time I pick up a book by Alice Hoffman, I get the same feeling. It happened with Seventh Heaven, it happened with The Rules of Magic, and it happened again here with Practical Magic. Maybe it's because all of these books feature at least a little bit of magical realism, but they just have this vibe about them that transports me right to where the characters are.
I loved all of our characters here — Sally and Gillian, Antonia and Kylie, Frances and Jet, and even minor characters like Gideon, Ben, and Gary. This book is very heavy on relationships, both platonic and romantic. I think that my favorite thing about the book was the bond between the sisters. Antonia and Kylie's love for each other, in particular, really made the book for me.
Something that surprised me when I was reading was all of the emotions I felt! I did not expect this book to pull at my heart like this, but there were a number of times when I was reading that I almost cried!
I'd highly, highly recommend this book if you're at all interested in magical realism or family bonds.
#killingthetbr: three months on shelf
#romanceopoly: faraway land
#ps19: a book with a two-word title
---
Have you read Practical Magic? Have you seen the movie? Should I drop everything and watch it now?Let's talk in the comments!
Find me all over the internet: Goodreads | Twitter | Bloglovin'