I'm getting caught up on my tags this week and I'm really excited to do the Marvel Avengers Book Tag! Thanks to The Orangutan Librarian for tagging me! ❤
---
Iron Man: a book that made you laugh out loud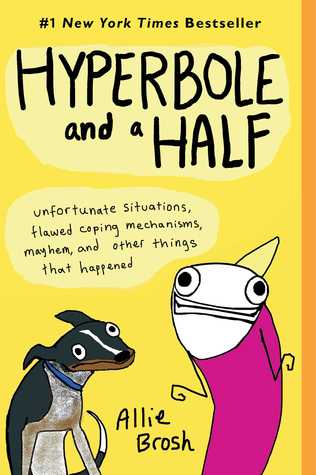 Hyperbole and a Half is one of the most hilarious things I've ever read in my life.
Captain America: a book that sends a positive message
This book might not sound like it has a particularly positive message, but The Life-Changing Magic of Not Giving a F*ck is really about learning to choose your battles and not waste your energy on people who don't care about you and things that don't matter. Is there really a more positive message than that?
Thor: a book with a character's strength you admire
I admire the strength of both Prince Sebastian and Frances in The Prince and the Dressmaker! Prince Sebastian has the strength and courage to be his true self in a time when it likely wouldn't be appreciated, and Frances is strong enough to know when to walk away from Sebastian's demands and do what makes her happy. This book just has such a great message.
Black Widow: a book with a kick-ass female protagonist
Alana is the embodiment of a kick-ass female protagonist. She struggles sometimes, but she's so strong and she can save the day whenever she needs to.
Hulk: a book that made you incredibly angry
It's been a while since I mentioned how much I absolutely despised Axl. So here I go again: there were so many things wrong with this book that I could probably give an hour lecture on it.
Hawkeye: an underrated book you think more people should pay attention to
It's been a few years since I read Cherry, but I still think it's underrated and I still think it's an important book. It's the story of four girls who make a pact to lose their virginity and all that it entails. More than anything, the book is like an open, honest, extended conversation between friends that highlights things like consent and making sure you're ready to take that step.
*BONUS* Loki: a book with a twist or surprise that tricked you
Honestly, I kind of saw it coming… but I still sometimes think about that twist at the end of Godsgrave. (I'm still counting down the days until I can read Darkdawn.)
---
I'm not tagging anyone to do this, but please feel free to do it if you think it looks fun! (And link back to this post so I can see your answers!) What's an underrated book that you think more people should read? What's the last book that made you laugh out loud? Let's talk in the comments!
Find me all over the internet: Goodreads | Twitter | Bloglovin'