Thanks to Angelica for tagging me! I'm not a huge Jonas Brothers fan, but that doesn't even matter because I am a huge book tag fan. 🙂 I'm really excited to do this one.
---
Rules:
You don't gotta be a JoBro fan, you just gotta love books
Mention the creator (Rendz @ReadingWithRendz)
Answer the prompts
Tag 3 peeps! (4 if you wanna take into consideration the Bonus Jonas)
---
"Year 3000"
A book/series set in the way distant future
-or-
A book/series that took you on an adventure
27 Hours takes place in the future and also takes us on a nice adventure!
"Hold On"
A book/series that took a while for you to get into
Krista & Becca Ritchie's Addicted series is one of my favorites, but it really took me until the third book or so to love it.
"S.O.S"
A book/series that you needed saving from
I definitely needed saving from The Pawn. You can see my review here if you'd like.
"When You Look Me in the Eyes"
A romance that makes you melt into a puddle of goo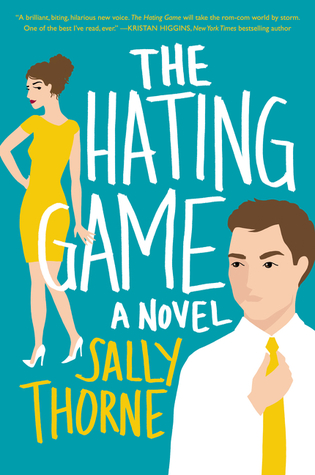 I don't think me choosing The Hating Game here will come as a surprise. By now everybody in the whole entire world (all 7.5 billion people) knows that I'm obsessed with Josh and Lucy.
"Burnin' Up"
A book/series so good it set you on fire
I could not put the Raven Cycle down! I just had to know what happened next.
"Lovebug"
A ship you were not expecting, but it happened and you ship it
I feel like I kind of see every ship coming… because I ship everyone and everything… but maybe Luna and Donnelly from Krista & Becca Ritchie's Like Us series? They're really minor characters in the series, but I'm hoping their eventual book will redeem the series for me.
"Paranoid"
A book/series that kept you on your toes the whole time
I was on my toes, on the edge of my seat, holding my breath, dying to know what was going to happen next the whole time I was reading You.
"Sucker"
A book/series you would reread over and over again
I can't really answer this one since I don't do re-reads!
---
I'm not going to tag anyone in particular for this one, but if you want to do it, please feel free and link back to me so that I can see your answers! Which book or series did you need to be saved from? Which unexpected ship did you fall for? Let's talk in the comments!
Find me all over the internet: Goodreads | Twitter | Bloglovin'