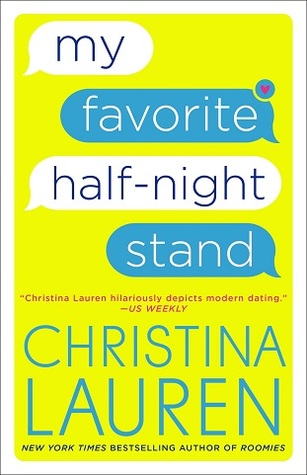 My Favorite Half-Night Stand by Christina Lauren
Millie Morris has always been one of the guys. A UC Santa Barbara professor, she's a female-serial-killer expert who's quick with a deflection joke and terrible at getting personal. And she, just like her four best guy friends and fellow professors, is perma-single.

So when a routine university function turns into a black tie gala, Millie and her circle make a pact that they'll join an online dating service to find plus-ones for the event. There's only one hitch: after making the pact, Millie and one of the guys, Reid Campbell, secretly spend the sexiest half-night of their lives together, but mutually decide the friendship would be better off strictly platonic.

But online dating isn't for the faint of heart. While the guys are inundated with quality matches and potential dates, Millie's first profile attempt garners nothing but dick pics and creepers. Enter "Catherine"—Millie's fictional profile persona, in whose make-believe shoes she can be more vulnerable than she's ever been in person. Soon "Catherine" and Reid strike up a digital pen-pal-ship…but Millie can't resist temptation in real life, either. Soon, Millie will have to face her worst fear—intimacy—or risk losing her best friend, forever. 
I was on a book-acquiring ban when I first saw the ARC of My Favorite Half-Night Stand pop up on Netgalley. I was really tempted to request it anyway but decided to be mature and responsible and not bite off more than I could chew by requesting books I had no time to read. That said, I totally planned to check it out from the library as soon as it came out. Well, life got in the way. I ended up traveling a lot at the end of the year and I kind of forgot about this one until I stumbled across it while waiting in line to check out at the library.
The thing is, I almost always enjoy books by Christina Lauren. They're one of my favorite author duos. Aside from Dating You/Hating You, I think I've rated everything of theirs either four or five stars. There's just something about their writing style that puts me in a great mood, and I love that their characters are always charming, yet flawed. And their dialogue! It's like reading an actual conversation.
Realizing that you might like a friend in a romantic way is always a weird feeling, and Christina Lauren captured that perfectly when Millie and Reid fall into their friends-but-sort-of-more arrangement. I appreciated that they didn't play into the "we can't because it'll ruin our friendship" cliche — that always bothers me and almost always feels so unrealistic — and instead had Millie and Reid hook up and then try to fall back into their normal rhythm.
The online dating aspect was great! I've never tried online dating, never wanted to, and hope that I'll never have to, because I find it absolutely terrifying. Nobody in this book had any (scary) disasters, though there was never a dull moment. I think, though, that the only part of the book I honestly took issue with was Millie (as "Catherine") stringing Reid along for so long, and Reid continuing to message "Catherine" despite his growing feelings for Millie. I think I say this in most reviews of romances, but if they'd just been adults and talked to each other, they could have avoided a lot of unnecessary drama.
Overall, though, I really enjoyed this book! It was a lot of fun and it's only made me more excited to read more from these authors.
#ps19: a book you meant to read in 2018
#romanceopoly: women's ave

---
Have you read My Favorite Half-Night Stand? What's your favorite friends-to-lovers romance? Let's talk in the comments!
Find me all over the internet: Goodreads | Twitter | Bloglovin'