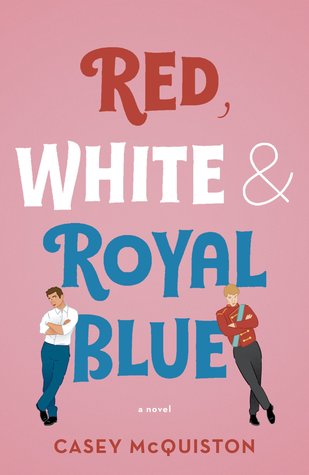 Red, White & Royal Blue by Casey McQuiston
A big-hearted romantic comedy in which First Son Alex falls in love with Prince Henry of Wales after an incident of international proportions forces them to pretend to be best friends…
First Son Alex Claremont-Diaz is the closest thing to a prince this side of the Atlantic. With his intrepid sister and the Veep's genius granddaughter, they're the White House Trio, a beautiful millennial marketing strategy for his mother, President Ellen Claremont. International socialite duties do have downsides—namely, when photos of a confrontation with his longtime nemesis Prince Henry at a royal wedding leak to the tabloids and threaten American/British relations.
The plan for damage control: staging a fake friendship between the First Son and the Prince. Alex is busy enough handling his mother's bloodthirsty opponents and his own political ambitions without an uptight royal slowing him down. But beneath Henry's Prince Charming veneer, there's a soft-hearted eccentric with a dry sense of humor and more than one ghost haunting him. 
As President Claremont kicks off her reelection bid, Alex finds himself hurtling into a secret relationship with Henry that could derail the campaign and upend two nations. And Henry throws everything into question for Alex, an impulsive, charming guy who thought he knew everything: What is worth the sacrifice? How do you do all the good you can do? And, most importantly, how will history remember you?
Oh my goodness, I don't know the last time I was so conflicted about a book. There was so much about this book that I wanted to love, some things I did actually love, and a few things I just outright hated.
Let's start with the good.
I loved both Alex and Henry. I felt like the two of them were well-developed characters. They felt like real people. They had chemistry, they had good banter, and, honestly, they were just adorable. I loved their relationship and I just loved them so, so much.
I loved President Claremont. This book is built around the idea of a female president being elected in 2016 and I can't say that I really have a problem with that alternate reality. President Claremont is strong, determined, and protective of her children without letting it compromise her presidency. She's all-around great. I also loved the diversity of her team.
I also thought that the writing was really good! It's very accessible writing and it's easy to get lost in this book.
That's about it for what I loved. Moving on now to things that I was kind of iffy about.
This book is way too long. It's rare that a contemporary romance needs to be over 300 pages. This is 432. I would argue that a good 100 pages of sex and political strategizing could have been cut out and it wouldn't have impacted the plot at all. It wasn't the biggest issue I had, but I think the book would have been more enjoyable if it were shorter, or at least had shorter chapters. I often found myself setting it down because I just didn't have the time to sit there reading another chapter that my Kindle estimated would take 38 minutes.
The book is cute, but it's almost too cute. It's almost like it's trying to make a point of how cute it is, like look at me, I am an adorable romance between two adorable boys and they keep doing adorable things, isn't it adorable. There's nothing inherently wrong with a book like this, but there were times when it got to be too much and I had to set the book aside.
I was okay with the politics in this book because I'm very much in agreement with them, but yikes, if you aren't… just prepare yourself. I also felt that, for a romance novel, this book focused way too much on the presidential campaign and election. I think I would have liked it more if that had happened in the background rather than being front and center.
And, finally, it's not one of my book reviews if I don't rant about something, so here's what I actually hated.
Nora. I found her incredibly annoying, disrespectful, childish, and rude. At one point, she falls off the face of the earth, not answering calls, not responding to texts, not even answering her door, worrying her friends half to death, and then she just shows back up and it's not even a thing? She was just busy. In what universe is it acceptable to act like that? She also had no respect for the fact that Alex was in a relationship and it just bothered me.
The sheer amount of sex. But it was weird, because we'd have these really detailed descriptions of Alex and Henry making out, and then just kind of fade to black for the actual sex. Which is fine, I wasn't expecting to be reading erotica, but it just seemed odd for a new adult book that was otherwise so detailed and contained SO MANY of these sex scenes. I felt like a good third of the book was Alex and Henry finding ways to hook up. Which, again, is fine, and it's something that's really common in new adult books, but I still wondered what the point was.
If you've read the book… the Five Guys thing. I just could not handle that. I actually rolled my eyes and asked myself if that really just happened when I read it. It was too much.
In the end, I didn't hate this book, but I definitely didn't like it as much as I thought I would. I can see why it's been a big hit, but it just wasn't what I expected given all the rave reviews I've read.
#romanceopoly: lgbt lane
---
Have you read Red, White & Royal Blue? Is it on your TBR?
Let's talk in the comments!
Find me all over the internet: Goodreads | Twitter | Bloglovin'