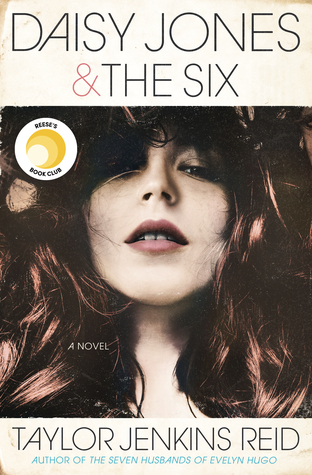 Daisy Jones & the Six by Taylor Jenkins Reid
Everyone knows Daisy Jones & The Six, but nobody knows the reason behind their split at the absolute height of their popularity . . . until now.
Daisy is a girl coming of age in L.A. in the late sixties, sneaking into clubs on the Sunset Strip, sleeping with rock stars, and dreaming of singing at the Whisky a Go Go. The sex and drugs are thrilling, but it's the rock and roll she loves most. By the time she's twenty, her voice is getting noticed, and she has the kind of heedless beauty that makes people do crazy things.
Also getting noticed is The Six, a band led by the brooding Billy Dunne. On the eve of their first tour, his girlfriend Camila finds out she's pregnant, and with the pressure of impending fatherhood and fame, Billy goes a little wild on the road.
Daisy and Billy cross paths when a producer realizes that the key to supercharged success is to put the two together. What happens next will become the stuff of legend.
The making of that legend is chronicled in this riveting and unforgettable novel, written as an oral history of one of the biggest bands of the seventies. Taylor Jenkins Reid is a talented writer who takes her work to a new level with Daisy Jones & The Six, brilliantly capturing a place and time in an utterly distinctive voice.
I checked this out from my library as an audiobook, mostly because there were hardly any holds on it (at least compared to the physical book). While I enjoy listening to nonfiction audiobooks, I'm not as much of a fan of fiction. Something about having fiction read to me usually kind of ruins it, but this was the perfect book to listen to in audio format.
The whole book is written as an interview with the band, and the audiobook is narrated by a full cast that did an absolutely amazing job. I started listening to this audiobook on a Saturday morning and finished it that same night. I didn't even take any breaks while I was listening. I cooked, I cleaned, I wrote blog posts, and the next thing I knew, the book was done.
I think that the first thing I want to say is that Daisy Jones & the Six felt like a real band. It's not like I hopped over to Spotify to look for their music or anything, but it was described so well that I wouldn't have been surprised if it were real. The characters were so well-written that they felt like real people. Quite honestly, I'm amazed.
I always find it harder to write a five-star review than a negative one, and I'm kind of lost for words right now. I don't know what else I can really say about this book other than I loved it.
#mm19: one sitting reads
---
Have you read Daisy Jones & the Six? Is it on your TBR?
Let's talk in the comments!
Find me all over the internet: Goodreads | Twitter | Bloglovin'