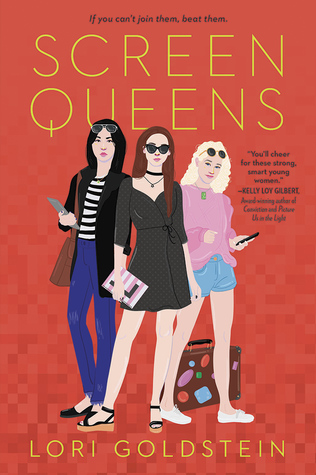 The Bold Type meets The Social Network when three girls participate in a startup incubator competition and uncover the truth about what it means to succeed in the male-dominated world of tech.
This summer Silicon Valley is a girls' club.
Three thousand applicants. An acceptance rate of two percent. A dream internship for the winning team. ValleyStart is the most prestigious high school tech incubator competition in the country. Lucy Katz, Maddie Li, and Delia Meyer have secured their spots. And they've come to win.
Meet the Screen Queens.
Lucy Katz was born and raised in Palo Alto, so tech, well, it runs in her blood. A social butterfly and CEO in-the-making, Lucy is ready to win and party.
East Coast designer, Maddie Li left her home and small business behind for a summer at ValleyStart. Maddie thinks she's only there to bolster her graphic design portfolio, not to make friends.
Delia Meyer taught herself how to code on a hand-me-down computer in her tiny Midwestern town. Now, it's time for the big leagues–ValleyStart–but super shy Delia isn't sure if she can hack it (pun intended).
When the competition kicks off, Lucy, Maddie, and Delia realize just how challenging the next five weeks will be. As if there wasn't enough pressure already, the girls learn that they would be the only all-female team to win ever. Add in one first love, a two-faced mentor, and an ex-boyfriend turned nemesis and things get…complicated.
Filled with humor, heart, and a whole lot of girl power, Screen Queens is perfect for fans of Morgan Matson, Jenny Han, and The Bold Type.
As a big fan of Morgan Matson and The Bold Type, I was really excited to get the chance to participate in a blog tour for Screen Queens! Instead of my usual review, I'm stepping out of my comfort zone and doing an author interview!
Thank you so much to Penguin Young Readers and Lori Goldstein for making this post possible!
---
What inspired you to write this book?
I love telling friendship stories. The core of my previous books is female friendship, and that's one of the major themes of SCREEN QUEENS too. In SCREEN QUEENS I liked the idea of telling a story set in an environment that would be unfamiliar to all the main characters so they have to come together and navigate the landscape as one—it's a precursor to what happens in college and of course also happens in summer camps, and intense friendships can form as a result despite the individuals being very different people. Obviously I was also heavily influenced by the #metoo movement, which had developed shortly before I started writing this book. Centering the story on the harassment that women in a male-dominated field like tech experience felt both timely and important, for technology and social media especially has such a strong impact on the lives of young adults.
You've previously written fantasy novels. What made you take the leap from fantasy to a contemporary about Silicon Valley?
I actually think it's less of a leap and more of a gentle hop! With my BECOMING JINN series being a contemporary fantasy, it's grounded in our normal, everyday world with a little bit (okay, more than a little!) of magic thrown in. But the foundation being in the contemporary world means that the transition to an all realistic story without a fantastic element felt entirely natural. While Azra in BECOMING JINN struggles with her magical destiny, it's so tightly interwoven in the life she has in the non-magical world that she feels very much like any average teenager coming to terms with who she is and who she wants to be. Those issues are core for my main characters of Lucy, Maddie, and Delia in SCREEN QUEENS. And I think many would argue that Silicon Valley is a "fantastical" place all of its own!

I think it's so great that you've written a book with such a feminist theme. Was there any reason that you decided to set this book in the male-dominated field of coding?
I'm inspired by all forms of entertainment and media, especially podcasts. One of my favorite podcasts is called StartUp by Gimlet Media, which chronicles the issues faced by new businesses, especially tech-based ones. The second season centered on two women trying to grow their dating app. The struggles they encountered as female founders, things their male counterparts didn't have to, affected me. Such as offers of funding from venture capitalists coming with the strings of dinner, drinks, or more attached. This led me to books like Brotopia by Emily Chang and articles in places like The Atlantic that offered deep insights into what it's like to be a woman in the field of tech. The harassment and discrimination is a big part of the reason women leave the industry, which happened to a very good friend of mine who left her career as a coder. And it is also a barrier—among many barriers—for women entering the field. We all know that jobs in the future will be those related to tech, and we need to encourage more young women to consider this option from a young age, something I never did.

Your book features three really different characters. Which one do you relate to most and why?
I loved the ability to create Lucy, Maddie, and Delia, three strong, smart women with very different backgrounds and personalities. Lucy is ambitious and ready to do whatever it takes to achieve her goals, including using connections and pushing the envelope. Maddie is a talented designer, but unlike Lucy, Maddie wants to be successful simply to be able to take care of her younger brother, the only person Maddie's able to open herself up to emotionally. Delia is loyal and deeply invested in her family and best friend. Though wildly intelligent, she lacks confidence and constantly compares herself to others. I see myself in all of these characters. My younger self was closer to Maddie; I was shy as a kid, and friendships didn't come easily to me. As I got older, that began to change, yet I had many of Delia's issues of lacking self-esteem, confidence, and just trusting myself. Now, I have Lucy's drive and determination, but it's tempered by my history and the pieces of Maddie and Delia still lurking inside. As a team, the three young ladies form a whole, and that's mirrored in my own life.

Unrelated to your book, are there any books that you've recently read that you'd recommend checking out?
Absolutely! One of my recent favorites is the YA contemporary NIGHT MUSIC by the incredibly talented Jenn Marie Thorne, which focuses on a young woman struggling to find her place among her musical prodigy family. Jenn has a way with words that always leaves me aspiring to do more with my own work. Another is just about to come out on July 2, an adult called WHISPER NETWORK by Chandler Baker, which is similar to SCREEN QUEENS in its themes of female empowerment. It centers on three lawyers in a corporate firm with a boss whose behavior crosses all the lines, and the women decide to take action. It tackles so much about being a working mom and dealing with sexual harassment and discrimination but with so much humor and skill that you can't stop flipping pages. Finally, another summer release (August 6) that I was fortunate to ready early is the YA REMEMBER ME by Chelsea Bobulski. It's Titanic meets The Shining, and it's a swoon-worthy love story that goes back and forth between the 1920s and present day that's the ultimate summer read.
---
About the Author
Lori Goldstein was born into an Italian-Irish family and raised in a small town on the New Jersey shore. She earned her bachelor's degree in journalism from Lehigh University and worked as a writer, editor, and graphic designer before becoming a full-time author. She currently lives and writes outside of Boston. Lori is also the author of the young adult contemporary fantasy series Becoming Jinn (Feiwel & Friends/Macmillan). You can visit her online at www.lorigoldsteinbooks.com.
---
Have you read Screen Queens? Can you think of any other books about young women in traditionally male-dominated fields? Let's talk in the comments!
Find me all over the internet: Goodreads | Twitter | Bloglovin'