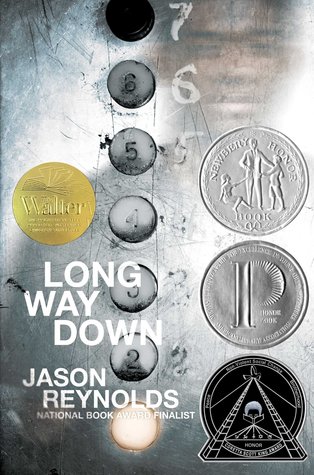 Long Way Down by Jason Reynolds
1 hour, 43 minutes
An ode to Put the Damn Guns Down, this is New York Times bestseller Jason Reynolds's fiercely stunning novel that takes place in sixty potent seconds—the time it takes a kid to decide whether or not he's going to murder the guy who killed his brother.
A cannon. A strap.
A piece. A biscuit.
A burner. A heater.
A chopper. A gat.
A hammer
A tool
for RULE
Or, you can call it a gun. That's what fifteen-year-old Will has shoved in the back waistband of his jeans. See, his brother Shawn was just murdered. And Will knows the rules. No crying. No snitching. Revenge. That's where Will's now heading, with that gun shoved in the back waistband of his jeans, the gun that was his brother's gun. He gets on the elevator, seventh floor, stoked. He knows who he's after. Or does he? As the elevator stops on the sixth floor, on comes Buck. Buck, Will finds out, is who gave Shawn the gun before Will took the gun. Buck tells Will to check that the gun is even loaded. And that's when Will sees that one bullet is missing. And the only one who could have fired Shawn's gun was Shawn. Huh. Will didn't know that Shawn had ever actually USED his gun. Bigger huh. BUCK IS DEAD. But Buck's in the elevator? Just as Will's trying to think this through, the door to the next floor opens. A teenage girl gets on, waves away the smoke from Dead Buck's cigarette. Will doesn't know her, but she knew him. Knew. When they were eight. And stray bullets had cut through the playground, and Will had tried to cover her, but she was hit anyway, and so what she wants to know, on that fifth floor elevator stop, is, what if Will, Will with the gun shoved in the back waistband of his jeans, MISSES.
And so it goes, the whole long way down, as the elevator stops on each floor, and at each stop someone connected to his brother gets on to give Will a piece to a bigger story than the one he thinks he knows. A story that might never know an END…if WILL gets off that elevator.
Told in short, fierce staccato narrative verse, Long Way Down is a fast and furious, dazzlingly brilliant look at teenage gun violence, as could only be told by Jason Reynolds.
This is going to be a very short review, mostly because this is a very short book and I don't have much to say. I finished this in one sitting but can't help wonder if I missed something because I've seen so many rave reviews of this book on Goodreads and other blogs and I just… didn't feel much of anything for it.
Objectively, I can tell you that the book is well-written. It's a timely book about an important topic. It's a very fast read. There's nothing actually wrong with it, at least as far as I can tell. But it's been a few weeks since I finished it and I still have no idea what to say about it. It's pretty rare that I finish a book and can't come up with one single opinion on it, but that's what happened here.
Three stars because I don't know how else to rate something that I have no strong feelings about.
#mm19: one sitting reads
---
Have you read Long Way Down? Is it on your TBR?
Let's talk in the comments!
Find me all over the internet: Goodreads | Twitter | Bloglovin'
---
Have you entered the MASSIVE BOOKCON GIVEAWAY yet? Find more info in this post or go directly to the giveaway here: