So, approximately FOUR MONTHS AGO, Mandy and Sha tagged me to do their original Brave Book Tag! I honestly don't even know where this year has gone, but here I am, finally doing it.
---
Scotland: Land of Magic, Castles, and will-o'-the-wisps
Name a magical book setting
I'm going to go with the weird, spooky 1920s New York City of Libba Bray's Diviners series.
Clan Dunbroch: Merida's family clan
Name your favorite bookish family/gang
I love the Kotova family from Krista & Becca Ritchie's Aerial Ethereal series! Luka is, of course, my favorite, but they're honestly all so great. I hope they write more books in that series. Someone please tell me why the Addicted series got 10 books and a spin off series (that's up to book 5 now) and a spin off webseries, and the Kotovas only got two books.
Merida: princess, brilliant archer, and doesn't need any man
Name a heroine who doesn't accept her fate
Blue from The Raven Cycle! As the series begins, she's told that her kiss will kill her true love. She's cautious, sure, but she doesn't let that define her life, and she becomes a really strong heroine as the series continues.
The Highland Games: Eligible Fight for Merida's Hand in Marriage
Name a book where the stakes are high
Nevernight! And Godsgrave! Probably Darkdawn, too, but I haven't gotten there yet.
Changing Fate: Merida Eats Some Enchanted Cake
Name a book where you thought it was going one way, but turned out to be a whole different way
I feel like I'm always choosing the same books for answers in tags, so I'm going to go with something totally different here — The Stolen Marriage by Diane Chamberlain. The whole premise of the book is that a young woman is raped and it completely derails the life she had planned for herself. While the book plays out fairly realistically given the time period (it takes place in the 1940s), I really thought that the whole situation would have been handled differently.
Elinor: Mama Turned Mama Bear
Name a character that goes through a big transformation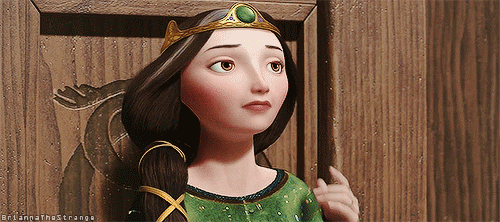 When The Brightsiders begins, Emmy is a rebellious teenage girl who has let fame go to her head. All she wants is to go out and party and get in a lot of trouble. As the book goes on, though, she learns a lot and really thinks about what she's doing with her life.
Bear Brothers: Adorable, Mischievous Baby Bears
Name some of your favorite scene-stealing characters
While I loved the overall story of The One Hundred Nights of Hero, I also really loved the characters that Hero featured in her stories! Every one of them stole the show for me.
Mor'du: Demon Bear, Secret Prince
A Villain With a Complex Backstory
HOLLAND VOSIJK, OKAY. Will I ever be over how the Shades of Magic trilogy ends? Probably not.
---
Do you think this tag looks fun? Please feel free to steal it, and link back to me so I can see your answers! Which side characters stole the show for you? Which book turned out differently than you expected? Let's talk in the comments!
Find me all over the internet: Goodreads | Twitter | Bloglovin'