Here I am, once again, doing Jamie's End of Year Survey! I love looking back on the year with this tag.
2019 Reading Stats
Number of books you read: 177
Number of re-reads: 0
Number of DNFs: 11
Number of unfinished books: 1
Genre you read the most from: probably YA romance (as usual)
Some Bonus Reading Stats (including DNFs)
Books by female authors: 120
Books by male authors: 64
Books by anonymous authors: 1
Books co-written by male and female authors: 3
Adult books: 85
YA books: 85
NA books: 12
MG books: 6
Best in Books
Best book you read in 2019:
This is always the hardest question. I think this year's best book was Sadie.
Book you were excited about and thought you were going to love more but didn't:
Possibly The Secret Commonwealth. I was really looking forward to it and it ended up just making me mad.
Most surprising (in a good way or bad way) book you read:
Permanent Record. Emergency Contact is one of my favorite books, and Permanent Record feels like it was written by a different person.
Book you "pushed" the most people to read (and they did):
I feel like I was most successful with getting people to read Nevernight.
Best series you started in 2019:
The Backstagers! I think I have one volume left and I'm waiting because I don't want it to be over!
Best sequel of 2019:
I really enjoy Revival, and Volume 2 was very good! I keep prioritizing other books over this series, but I can't wait to see where this story goes.
Best series ender of 2019:
I didn't finish a lot of series in 2019, and the few that I did finish were mostly just okay endings. Even though it's a duology, though, Puddin' was really good.
Favorite new author you discovered in 2019:
Maybe Julie Murphy? I didn't go seeking out new authors, but I read three of her books and gave all of them four stars.
Best book from a genre you don't typically read/was out of your comfort zone:
The story of The Poet X wasn't out of my comfort zone, but it's rare for me to read a book in verse. It's even rarer for me to love one, but this was so good.
Most action-packed/thrilling/unputdownable book of the year:
I hardly read any thrillers at all, but I'd say that You kept me interested.
Book you read in 2019 that you would be MOST likely to re-read next year:
Every year, I answer this question with a disclaimer that I'm not actually going to reread the book that I choose. I just don't like doing rereads. But let's see… if forced, I might reread Everyone's a Aliebn When Ur a Aliebn Too. It was just so cute.
Favorite cover of a book you read in 2019:
Probably The Babysitters Coven! This wasn't my favorite book of the year, but it might be my favorite cover.
Most memorable character of 2019:
Still Ghüs from Saga.
Most beautifully written book read in 2019:
I can't say that To Be Taught, If Fortunate was one of my favorites of the year, but I also can't deny that it was beautifully written.
Most thought-provoking/life-changing book of 2019:
Bad Blood was incredibly thought-provoking, in the sense of "with all of those government regulations, how did something like this possibly happen."
Book you can't believe you waited UNTIL 2019 to finally read:
I was scared of the hype surrounding American Panda, but it ended up being so good!
Favorite passage/quote from a book you read in 2019:
We barely get any time on this planet. Do not spend it pleasing other people. Fuck politeness. Live life exactly how you want to live it so you can love the life you make for yourself.

Stay Sexy & Don't Get Murdered by Karen Kilgariff & Georgia Hardstark
Shortest and longest book you read in 2019:
Book that shocked you the most:

I'm really picky about historical fiction, and I've never been super into bands like Fleetwood Mac, but I ended up loving Daisy Jones & the Six so much.
OTP OF THE YEAR (you will go down with this ship!):

I didn't really have an OTP of the year in 2019. Maybe Olive and Ethan from The Unhoneymooners? Even then, they were just cute, not life-shattering or anything.
Favorite non-romantic relationship of the year:
I'd probably have to go with Willowdean and all her friends in Dumplin'!
Favorite book you read in 2019 from an author you've read previously:
Looking through my five-star reviews of 2019, most of them were by authors I was just reading for the first time! Jenn Bennett never disappoints, though, so the answer to this question has to be Serious Moonlight.
Best book you read in 2019 that you read based SOLELY on a recommendation from somebody else/peer pressure/bookstagram/etc:
Based SOLELY on a recommendation, and in had never heard of it before and would likely never have read it otherwise… The Encyclopedia of Early Earth by Isabel Greenberg. This was a recommendation from Alex and definitely one of the best graphic novels of the year.
Newest fictional crush from a book you read in 2019:
If there's one thing 2019 was lacking, it was a good swoony love interest. I can't think of anybody!
Best 2019 debut you read:
The Story That Cannot Be Told!
Best worldbuilding/most vivid setting you read this year:
Most vivid setting definitely goes to Pumpkinheads. I felt like I was right there on the farm!
Book that put a smile on your face/was the most FUN to read:
Snug was just so cute. I love Catana's comics.
Book that made you cry or nearly cry in 2018: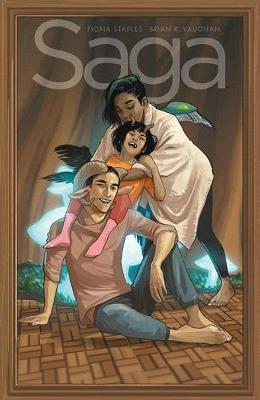 Ugh. Saga, Vol. 9.
Hidden gem of the year:
Kiss Number 8 was one of my favorite graphic novels of the year and I've hardly seen anyone talking about it!
Book that crushed your soul: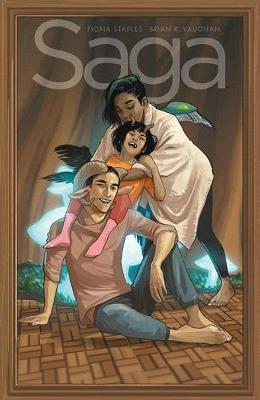 2018 was Saga, Vol. 7. 2019 is Saga, Vol. 9.
Most unique book you read in 2019:
Definitely Jealous Revenge.
Book that made you the most mad (doesn't necessarily mean you didn't like it):
Most mad is hard, because I had a few books that made me really mad. I think that honor goes to Kings, Queens, and In-Betweens, though, for glamorizing really problematic behavior. (I have a whole rant in my review.)
Your Blogging/Bookish Life
New favorite book blog/bookstagram/Youtube channel you discovered in 2019:
I don't really know! I didn't do much discovering in 2019.
Favorite post you wrote in 2019:
Last year I gave three answers to this question, so I'll do that this year too:
Favorite bookish related photo you took in 2019:
I'm still not over getting this ARC.
Best bookish event that you participated in (author signings, festivals, virtual events, etc):
Definitely BookCon!
Best moment of bookish/blogging life in 2019:
That's a hard one. Maybe going out of my comfort zone a little bit to do some author interviews/guest posts!
Most challenging thing about blogging or your reading life this year:
Figuring out how to balance reading with moving, living in a new city, and starting a new job. Audiobooks have been my savior!
Most popular post this year on your blog (whether it be by comments or views):
My most-viewed post was the one about Mackenzi Lee.
Post you wished got a little more love:
I was surprised at how few views my review of American Panda got! It was such a cute book and hardly anybody even saw it!
Best bookish discovery (book related sites, book stores, etc):
I don't think I discovered any book-related sites or stores, but I did (re)discover my love of audiobooks. I also discovered that I really enjoy doing buddy reads with my boyfriend.
Did you complete any reading challenges or goals that you had set for yourself at the beginning of this year?
Yes! I met all of my goals. It's actually going up as tomorrow's blog post, but I finished all three reading challenges and met my 100 book goal for 2019.
Looking Ahead
One book you didn't get to in 2019 but will be your number 1 priority in 2020:
Ever since I was so disappointed by Lovers Like Us, I haven't had the motivation to read The Last Hope. This is one ARC that I really need to get to, though, since it released back in August!
Book you are most anticipating for 2020 (non-debut):
Definitely Chasing Lucky! Anything by Jenn Bennett automatically goes on my most anticipated list. 🙂
2020 debut you are most anticipating:
I have to support my fellow book blogger here and say that the debut I'm most anticipating is The Unraveling of Cassidy Holmes by Elissa Sloan!
Series ending/sequel you are most anticipating in 2020:
I don't think there are any! I think I read mostly standalones or completed graphic novels in 2019.
One thing you hope to accomplish or do in your reading/blogging life in 2020:
It would be really cool to hit 3,000 followers. I'd also like to do more collaborations. (I say this every year.)
A 2020 release you've already read and recommend to everyone (if applicable):
I haven't read any 2020 books yet!
---
Have you done this end of year survey? Feel free to leave your link and the comments and I'll check out your post! Do we have any of the same answers for these questions? Anything you disagree with me on? Let's talk in the comments!