First things first! Somehow, the bookish gods blessed me with TWO ARCs of Bring Me Their Hearts! Click through to the Rafflecopter for your chance to win one of them! (US only, sorry, international shipping is so expensive!!)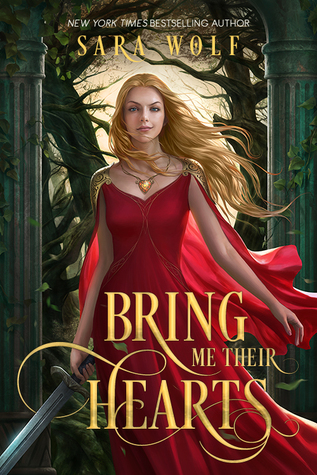 Bring Me Their Hearts by Sara Wolf
Rating: ★★★☆☆
Links:
Amazon
•
TBD
•
Goodreads
Publication Date: June 5, 2018
Source: ARC from publisher
Zera is a Heartless – the immortal, unageing soldier of a witch. Bound to the witch Nightsinger ever since she saved her from the bandits who murdered her family, Zera longs for freedom from the woods they hide in. With her heart in a jar under Nightsinger's control, she serves the witch unquestioningly.
Until Nightsinger asks Zera for a Prince's heart in exchange for her own, with one addendum; if she's discovered infiltrating the court, Nightsinger will destroy her heart rather than see her tortured by the witch-hating nobles.
Crown Prince Lucien d'Malvane hates the royal court as much as it loves him – every tutor too afraid to correct him and every girl jockeying for a place at his darkly handsome side. No one can challenge him – until the arrival of Lady Zera. She's inelegant, smart-mouthed, carefree, and out for his blood. The Prince's honor has him quickly aiming for her throat.
So begins a game of cat and mouse between a girl with nothing to lose and a boy who has it all.
Winner takes the loser's heart.
Literally.
I was so surprised and so excited when an actual physical ARC of Bring Me Their Hearts showed up on my front porch! I never get physical ARCs, so this pretty much made my life. I haven't been reading a ton of YA fantasy lately, but it sounded really good and let's be honest, the author's name is also Sara with no H, so I felt an instant bond with her.
I think that my favorite thing about this book was the characters. I loved Zera, a strong and sassy heroine with a whole lot of opinions. When it comes to heroines, Zera is exactly what I like. I loved the friendships that she made throughout the book! Although she and Fione didn't necessarily get along at the beginning, I loved how close they got as the book went on. And Malachite! What a great character. I loved Lady Y'shennria's character development. And Lucien? Is he an actual perfect prince? I think he might be.
But there were also some things I didn't like. I struggled with the pacing, which kind of felt all over the place to me. I felt like the language was also pretty modern for the time period that this book is supposed to be set in. There was one scene where Zera says something along the lines of, "Of all the garbage things I've said since I got here," and it just felt so modern and so out of place. I also couldn't get over the internal voice of Zera's hunger, either, which for some reason TaLkeD liKe a TeEnaGe GirL fRoM 2004??
In the end, I feel kind of conflicted about this book. I liked the concept, I liked the characters, but there was just something in the execution that didn't do it for me. You'll probably enjoy it if you're into light, fluffy YA fantasy. It has a really high average rating on Goodreads (4.22 stars as of the time I finished it), so the fact that I didn't love it definitely puts me in the minority.
---
Have you read Bring Me Their Hearts? What did you think?