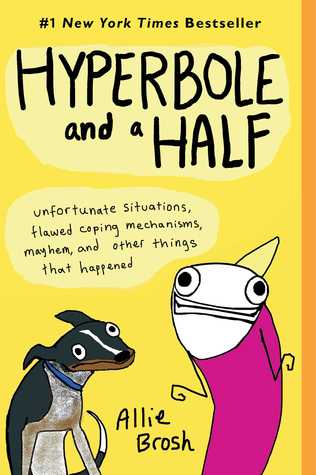 Hyperbole and a Half by Allie Brosh
This is a book I wrote. Because I wrote it, I had to figure out what to put on the back cover to explain what it is. I tried to write a long, third-person summary that would imply how great the book is and also sound vaguely authoritative–like maybe someone who isn't me wrote it–but I soon discovered that I'm not sneaky enough to pull it off convincingly. So I decided to just make a list of things that are in the book:
Pictures
Words
Stories about things that happened to me
Stories about things that happened to other people because of me
Eight billion dollars*
Stories about dogs
The secret to eternal happiness*
*These are lies. Perhaps I have underestimated my sneakiness!
Fun fact: I was obsessed with Hyperbole and a Half when I was a teenager. I followed Allie's blog religiously, often laughing until I cried while reading her posts. I was so excited when I heard that she was going to be published! I added this book to my TBR and then just… didn't read it for five years.
Well, let me tell you, it was worth the wait. I was worried that my sense of humor would have changed and I wouldn't find Allie as funny as I did all those years ago, but she's still hilarious. I loved this book. I read it in one night. I couldn't put it down.
I'm not even sure what my favorite story was since I loved all of them so much. Maybe the goose. But anyway, this was an easy five stars for me. It doesn't look like Allie does any writing anymore, but if she ever decides to publish again, I'll be preordering.
#mmd19: a book you've been meaning to read
#ps19: your favorite prompt from a past POPSUGAR reading challenge (2015 – a book you can read in a day)
---
Have you read Hyperbole and a Half? Did you ever follow Allie's blog?
Let's talk in the comments!
Find me all over the internet: Goodreads | Twitter | Bloglovin'