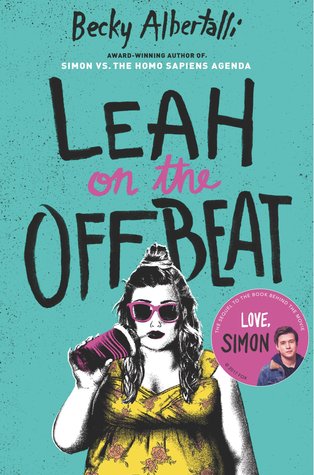 Leah on the Offbeat by Becky Albertalli
Series:
Creekwood 
#2
Rating: ★★★★☆
Links:
Amazon
• 
Goodreads
 •
TBD
Publication Date: April 24, 2018
Source: Purchased
Leah Burke—girl-band drummer, master of deadpan, and Simon Spier's best friend from the award-winning Simon vs. the Homo Sapiens Agenda—takes center stage in this novel of first love and senior-year angst.
When it comes to drumming, Leah Burke is usually on beat—but real life isn't always so rhythmic. An anomaly in her friend group, she's the only child of a young, single mom, and her life is decidedly less privileged. She loves to draw but is too self-conscious to show it. And even though her mom knows she's bisexual, she hasn't mustered the courage to tell her friends—not even her openly gay BFF, Simon.
So Leah really doesn't know what to do when her rock-solid friend group starts to fracture in unexpected ways. With prom and college on the horizon, tensions are running high. It's hard for Leah to strike the right note while the people she loves are fighting—especially when she realizes she might love one of them more than she ever intended.
This isn't the book I was planning to read for my final #killingthetbr selection this month. I was going to do yet another borderline erotic novel, but then I thought… I have been hating those books lately. I'd much rather read a fluffy YA contemporary. I searched through my shelves for something that I'd purchased more than three months ago that seemed like it would fit and came up with Leah on the Offbeat. I actually bought this book way more than five months ago because of a preorder incentive, but it's been on my physical shelf since April.
I don't know why I waited so long to read this.
I was a little nervous that I would dislike Leah. After all, I've read countless reviews that talked about how awful she is. And is she awful? I mean, sometimes. But what high school senior isn't awful sometimes? Isn't that kind of a trademark of being a teenager? It's not like I'm going to be breaking down any doors to be Leah's best friend, but I understood her.
The characters from Simon are all present and accounted for in Leah. I still love Simon and wish that I could have been best friends with him when I was in high school. I was so happy to see that his relationship is still as adorable as ever. Aside from Leah and Simon, we see a lot of Abby (who I liked more in Leah than I did in Simon), Nick (who is actually awful??), and Nora (who is the best). The thing that disappointed me was that Simon has to be the cutest, fluffiest, most adorable YA novel I've ever read that still manages to tackle some tough subjects and that's what I was expecting from Leah. Unfortunately, that's not what I got.
Leah is a good book in its own way. I liked that Leah's mom was a fairly big part of the book, because absent parents in YA drive me crazy. I really related to Leah's struggles with her mom starting to date someone new since that's something I went through when I was in high school. I'm a little freaked out by the fact that Leah's mom is only seven years older than me, but I suppose there are people I went to school with who have ten-year-olds, so it's not actually unbelievable.
Aside from the single parent aspect, Leah also tackles bisexuality and racism. Now, I can't really tell you if the bisexual representation is accurate or not, but I did appreciate Leah's rant about someone who referred to themselves as "lowkey bi." I also appreciated Leah not backing down when one of her friends made a horribly racist comment. That was such a great message to send and I don't think I've actually seen a review that addressed it yet.
But despite all of those positives, I just felt like something that made Simon amazing was missing from Leah. What specifically that was, I have no idea. I still think this was a great book and I would absolutely recommend it if you're in a YA contemporary mood.
You can really never go wrong with Becky Albertalli.
#killingthetbr: 5 months on shelf
---
Have you read Leah on the Offbeat? What did you think?
Let's talk in the comments!
---
Find me all over the internet: Goodreads | Twitter | Bloglovin'