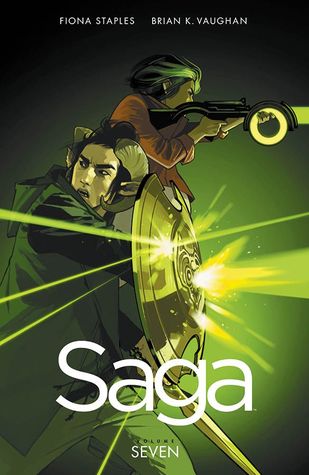 Saga Vol. 7 by Brian K. Vaughan
From the worldwide bestselling team of Fiona Staples and Brian K. Vaughan, "The War for Phang" is an epic, self-contained Saga event! Finally reunited with her ever-expanding family, Hazel travels to a war-torn comet that Wreath and Landfall have been battling over for ages. New friendships are forged and others are lost forever in this action-packed volume about families, combat and the refugee experience.
I thought that Volume 5 was my favorite, and then I thought that Volume 6 was my favorite, but it's official. Volume 7 is the best of Saga so far. So much happened. I loved this volume but also hated it, because what was that ending. I don't think a graphic novel has ever made me cry before, but here we are. My heart is absolutely shattered and I have no idea how I'm supposed to wait until my hold on Volume 8 comes in.
If you're not already reading this series, please do yourself a favor and pick it up. I can't imagine you'll regret it.
#mm18: family
---
Have you read any of Saga? What's your favorite graphic novel?
Let's talk in the comments!
---
Find me all over the internet: Goodreads | Twitter | Bloglovin'