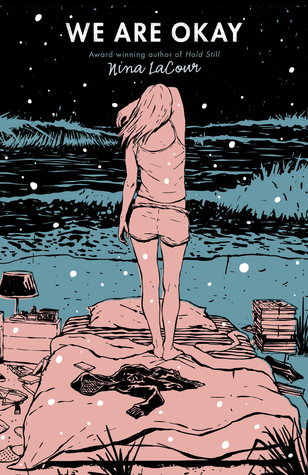 We Are Okay by Nina LaCour
Rating: ★★★☆☆
Links:
Amazon
•
TBD
•
Goodreads
Publication Date: February 14, 2017
Source: Borrowed
You go through life thinking there's so much you need…
Until you leave with only your phone, your wallet, and a picture of your mother.
Marin hasn't spoken to anyone from her old life since the day she left everything behind. No one knows the truth about those final weeks. Not even her best friend, Mabel. But even thousands of miles away from the California coast, at college in New York, Marin still feels the pull of the life and tragedy she's tried to outrun. Now, months later, alone in an emptied dorm for winter break, Marin waits. Mabel is coming to visit, and Marin will be forced to face everything that's been left unsaid and finally confront the loneliness that has made a home in her heart.
One of my goals for this summer was to read more books by Nina LaCour. I really enjoyed You Know Me Well when I read it a couple years ago, but life got in the way and even though at least three of her books have been on my TBR forever, I never got around to actually reading them. I put a library hold on We Are Okay months ago. When the hold finally came in, I promptly forgot that I had the book and realized, as I was packing for my trip to Wisconsin, that the book was going to expire the next day. I read it in the airport and I usually love books that I read in airports, but this one was only… okay.
I think the biggest problem I had was that the book is just super character-driven, to the point that not a lot actually happens. And I get it, I really do. The whole point of the book is that Marin's grandfather has just died and she's trying to deal with her grief and all the changes in her life and she's trying to figure out what everything means for her. I get it. But I wanted something more to happen. Something to keep me interested. Something other than just beautiful writing.
The book was just so sad and I didn't see much of a point to it other than that. Three stars for the writing alone, but if I'm being honest, I'm pretty disappointed.
#mm18: vacation reads
Goodreads summer reading challenge: take pride
---
Have you read We Are Okay? Have you read any of Nina LaCour's other books?
Let's talk in the comments!
---
Find me all over the internet: Goodreads | Twitter | Bloglovin'