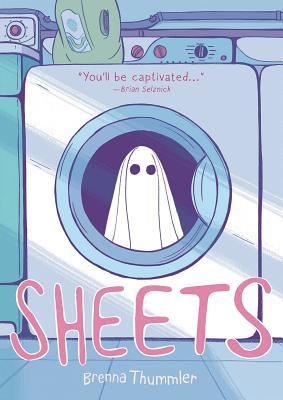 Sheets by Brenna Thummler
Marjorie Glatt feels like a ghost. A practical thirteen year old in charge of the family laundry business, her daily routine features unforgiving customers, unbearable P.E. classes, and the fastidious Mr. Saubertuck who is committed to destroying everything she's worked for.
Wendell is a ghost. A boy who lost his life much too young, his daily routine features ineffective death therapy, a sheet-dependent identity, and a dangerous need to seek purpose in the forbidden human world.
When their worlds collide, Marjorie is confronted by unexplainable disasters as Wendell transforms Glatt's Laundry into his midnight playground, appearing as a mere sheet during the day. While Wendell attempts to create a new afterlife for himself, he unknowingly sabotages the life that Marjorie is struggling to maintain.
Sometimes I get into these graphic novel moods and just can't bring myself to read an actual novel. In those cases, I usually go to the library and check out whatever looks interesting. When I tried to go to the library a couple days ago, though, the whole entrance to the parking garage was blocked by a huge truck and all the street parking was taken. It put me in a bit of a mood, really, but then I remembered that hoopla is a thing and I was all good.
I had seen a number of positive reviews of this graphic novel, but I was still really surprised at how much I ended up liking it. I'm not usually the biggest fan of middle grade books, but this one was so well-done. It deals with a lot of heavy topics — death, grief, depression, bullying, loneliness — but it never feels heavy-handed or like it's trying too hard.
One of the things I really enjoyed about this graphic novel was the use of color palettes! The majority of the book is illustrated in pink and blue pastels, but some memories, for example, are illustrated in yellow and orange, which I loved. I'm not even sure why I loved it, but I did.
The only two things that kept me from rating this higher were the pacing (it felt a little slow at times) and Mr. Saubertuck (who felt almost like a caricature of a villain). All in all, though, this was a really great debut. I see that the author has another book about Marjorie and Wendell coming out next year, and I can't wait to read it.
---
Have you read Sheets? Can you recommend any similar books?
Let's talk in the comments!
Find me all over the internet: Goodreads | Twitter | Bloglovin'