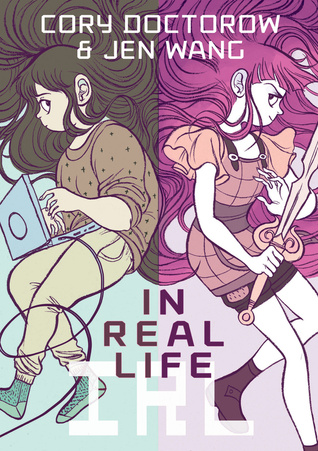 In Real Life by Cory Doctorow & Jen Wang
Anda loves Coarsegold Online, the massively-multiplayer role-playing game where she spends most of her free time. It's a place where she can be a leader, a fighter, a hero. It's a place where she can meet people from all over the world, and make friends. 

But things become a lot more complicated when Anda befriends a gold farmer–a poor Chinese kid whose avatar in the game illegally collects valuable objects and then sells them to players from developed countries with money to burn. This behavior is strictly against the rules in Coarsegold, but Anda soon comes to realize that questions of right and wrong are a lot less straightforward when a real person's real livelihood is at stake. 

From acclaimed teen author (Little Brother, For the Win) and Boing Boing editor Cory Doctorow and Koko Be Good creator Jen Wang, In Real Life is a perceptive and high-stakes look at adolescence, gaming, poverty, and culture clash. 
I had seen some really great reviews of In Real Life, so I decided to check it out when I saw it at my library. And it was fine, I guess, but honestly, I'm not really sure where all the love is coming from. The art is very good, I'll give it that, but I'm not sure that I'm 100% on board with the message.
So, the first thing to know is that, yes, this is a book with a message. It's a book that kind of tries to shove its message down your throat since it starts with the author actually explaining the message before you even get into the story. That's fine and good, I suppose, but am I not smart enough to figure out the message on my own? Anyway.
This book is, in a nutshell, about a lonely teenage girl who joins an online gaming community and decides she wants to save the world. I could get behind that book, but I think that the way the author went about this storyline was a little questionable.
First of all, Anda befriends Raymond, a teenage gold farmer from China who works twelve-hour shifts every night so that he can earn enough real-world money to survive. This creates some conflict since Anda regularly works to exterminate gold farmers within the game, who are regarded very negatively. It also creates some conflict when Anda realizes that these gold farmers are actual people, tries to improve Raymond's life, and ends up miserably failing.
The thing is, Anda is a teenage girl in a privileged country. She has little issue obtaining a credit card from her mother to pay to play this game. She lives a nice, comfortable life and knows nothing about anything, but she thinks that she knows what's best for a real teenage boy in another country. She convinces this teenage boy to do things that could, quite literally, ruin his life. All the while, Anda feels bad about it, but it really doesn't have any actual impact on her life. In the end, when Anda fixes the mess that she created, she becomes Raymond's savior.
I'm probably making it sound like I hated this book. I didn't. I thought the idea of the book was good. I thought the art was beautiful. Something in the execution of the plot left a lot to be desired. I think this book could open up a great conversation, but I'd hesitate to recommend it if you're reading for leisure.
---
Have you read In Real Life? Is it on your TBR?
Let's talk in the comments!
Find me all over the internet: Goodreads | Twitter | Bloglovin'