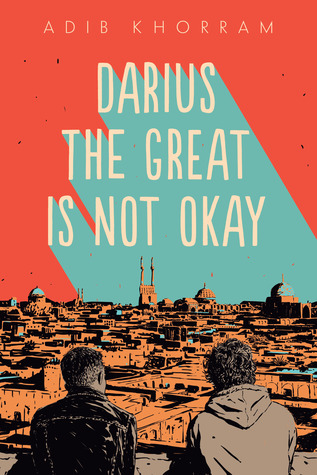 Darius the Great Is Not Okay by Adib Khorram
Rating: ★★★★☆
Links:
Amazon
•
TBD
•
Goodreads
Publication Date: August 28, 2018
Source: ARC from First to Read
Darius doesn't think he'll ever be enough, in America or in Iran. Hilarious and heartbreaking, this unforgettable debut introduces a brilliant new voice in contemporary YA.
Darius Kellner speaks better Klingon than Farsi, and he knows more about Hobbit social cues than Persian ones. He's about to take his first-ever trip to Iran, and it's pretty overwhelming–especially when he's also dealing with clinical depression, a disapproving dad, and a chronically anemic social life. In Iran, he gets to know his ailing but still formidable grandfather, his loving grandmother, and the rest of his mom's family for the first time. And he meets Sohrab, the boy next door who changes everything.
Sohrab makes sure people speak English so Darius can understand what's going on. He gets Darius an Iranian National Football Team jersey that makes him feel like a True Persian for the first time. And he understands that sometimes, best friends don't have to talk. Darius has never had a true friend before, but now he's spending his days with Sohrab playing soccer, eating rosewater ice cream, and sitting together for hours in their special place, a rooftop overlooking the Yazdi skyline.
Sohrab calls him Darioush–the original Persian version of his name–and Darius has never felt more like himself than he does now that he's Darioush to Sohrab. When it's time to go home to America, he'll have to find a way to be Darioush on his own.
I might have let out a little yelp when I got the email from First to Read that I'd been chosen for an ARC of Darius the Great is Not Okay. I'd been looking forward to reading it for a while and I never really know what's going to happen when I try to get books from them. It was also on Becky Albertalli's list of LGBTQ recommendations, so there's another ringing endorsement. I was all set to love it, and I did… mostly.
I loved the friendship between Darius and Sohrab. Darius is a lot of things. He's awkward, he's nerdy, and he's self-conscious. He's overweight, he struggles with depression, and he gets bullied a lot. He doesn't really have any friends except for the one Persian girl in his school that he sometimes has lunch with. But when he gets to Iran, he instantly bonds with Sohrab. Sohrab is a guy who doesn't really fit in, either. He's different from the other kids in his town, but he knows from the minute that he meets Darius that they'll be best friends. Their friendship is so sweet.
The actual LGBTQ aspect is very subtle. I don't recall Darius ever actually addressing his sexuality. There are times when a family member will ask him why he doesn't have a girlfriend and he'll kind of dodge the question. There are little hints that Darius feels more than friendly toward Sohrab, and maybe Sohrab feels the same toward him, but this isn't a romance. (And that's totally fine.)
Now, for what kept the book from a full five stars. There were two things that kind of ate away at me while I was reading. First, the book relies pretty heavily on Star Trek references to move along the plot. This isn't necessarily a problem for me in general. I've never been a huge fan of Star Trek, but I usually love pop culture references in books. It just felt a little over-the-top here. And second, there were so many similes. Everything had to be compared to something else. My protected PDF wouldn't let me make highlights, so I'm just going based off my memory here, but I recall Darius referring to his voice as "squeaky like a cheese curd," and that was just really interesting. All in all, though, those are two really minor complaints about a book that was otherwise really well-written.
In the end, I'd say that Darius the Great is Not Okay is a really great character-driven debut that I'd easily recommend to just about anyone. There's one point, near the end of the book, where I almost burst into tears in the middle of a crowded airplane. I felt so bad for Darius and just wanted to give him a big hug.
#mm18: vacation reads
Goodreads summer reading challenge: read the world
---
Have you read Darius the Great Is Not Okay? Is it on your TBR?
Let's talk in the comments!
---
Find me all over the internet: Goodreads | Twitter | Bloglovin'